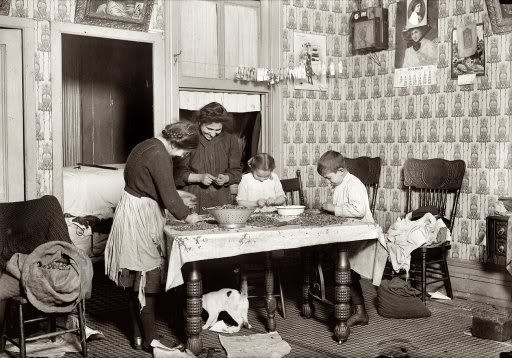 Original at
Shorpy.com
New York, December 1911. 143 Hudson Street, ground floor. Mrs. Salvia; Joe, 10 years old; Josephine, 14 years old; Camille, 7 years old. Picking nuts in a dirty tenement home. The bag of cracked nuts (on chair) had been standing open all day waiting for the children to get home from school. The mangy cat (under table) roamed about over everything. Baby is sleeping in the dark inner bedroom (three yrs. old).
Geeeez. Judgemental, much? Perhaps the author's purebred cat spends its days sitting primly on a satin pillow, and his baby sleeps in a brightly lit window.
To me, they just look like a happy family.
***
Next time: Traveling back farther than ever before!