[1972]
Porcupines
Baby Green Limas
Festival Peach Salad
Chocolate Parfaits
[not made]
Yes, it is time for the 70's once more! How I have missed them.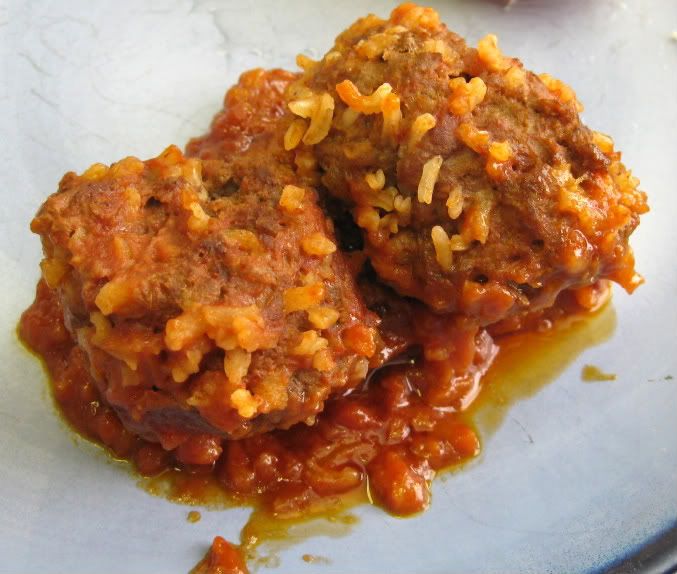 Porcupines
1/2 lb. ground beef
1/4 cup uncooked rice
1/4 cup milk or water
2 tbsp. chopped onion
1/4 tsp. celery salt
1/4 tsp. garlic salt
dash of pepper
1 tbsp. shortening or drippings [I used... olive oil drippings.]
1 can (8 oz.) tomato sauce
1/2 cup water
1 1/2 tsp. Worcestershire sauce
Mix beef, rice, milk, onion, and seasonings. Form 4 medium balls. Fry in melted shortening, turning frequently, until light brown (but not crusty) on all sides. Add tomato sauce, water, and Worcestershire sauce. Mix well. Cover; simmer 45 min. over low heat. Add a small amount of additional water if liquid cooks down too much.
2 servings.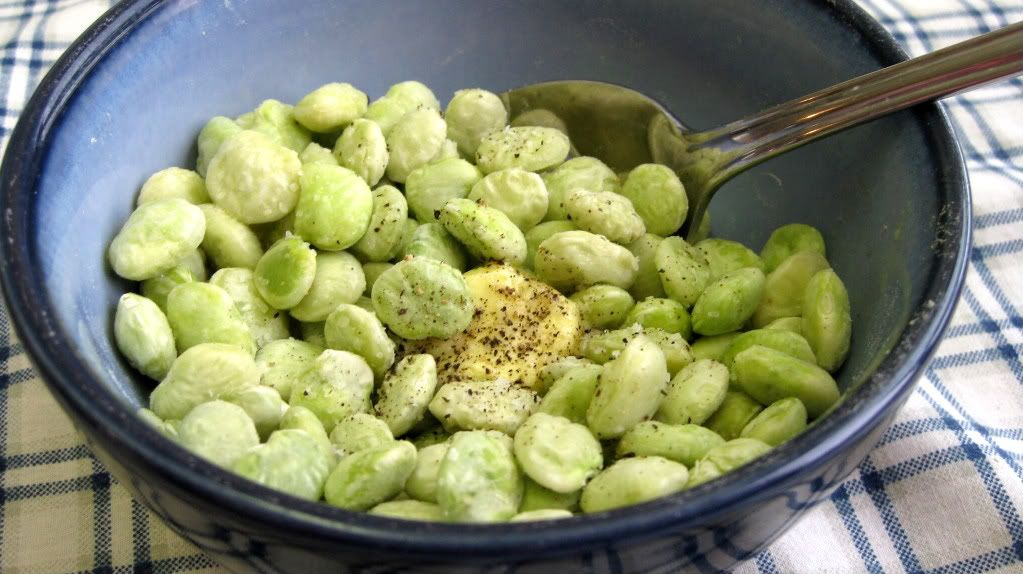 Baby Green Limas
You'll need about 1 1/2 lb. Lima beans in shells. Snap pods open; remove beans. Or cut thin strip from inner edge of pod with knife; push beans out. Cook, covered, in 1/2 to 1" boiling salted water 20 to 30 min. Season with butter, salt, and pepper. 2 servings
To save time,
use 1 pkg. (10 oz.) frozen Lima beans. Cook as directed on pkg.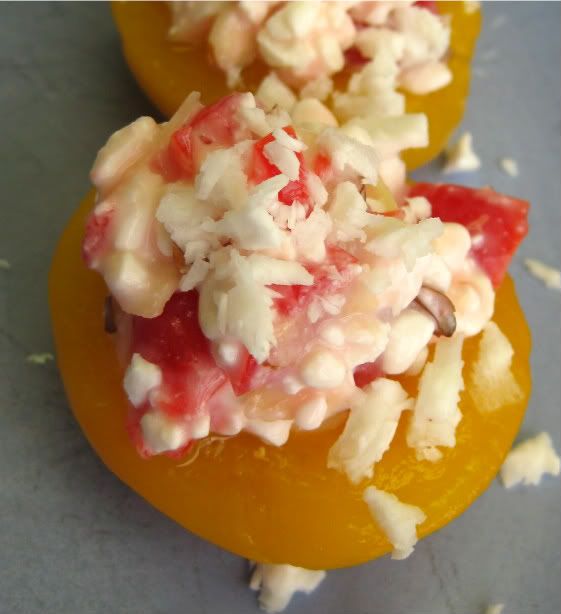 Festival Peach Salad
1 fresh peach or 2 canned peach halves
1/4 cup small curd cottage cheese
1 tbsp. toasted slivered almonds
1 tbsp. chopped maraschino cherries, well drained
1 tbsp. flaked coconut
lettuce leaves [yes, yes, I know, I failed on this one!]
Peel, halve, and pit fresh peach; sprinkle with lemon juice to prevent discoloration. Mix cottage cheese with almonds and cherries. Fill centers of peach halves with cottage cheese mixture; sprinkle with coconut. Serve on lettuce leaves. 2 servings.
Chocolate Parfaits
Alternate layers of ice cream and Quick Chocolate Sauce (p. 85) in parfait glasses.
Quick Chocolate Sauce
1 pkg. (6 oz.) semi-sweet chocolate pieces
1 can (5 1/2 oz.) evaporated milk
1/8 tsp. salt
1/2 tsp. peppermint flavoring (not oil of peppermint), if desired
Melt chocolate over hot water. Beat in milk and salt. Blend in peppermint. Serve hot or cold.
Makes about 1 1/2 cups
.
Verdict:
Porcupines:
Delicious! Yes, yes, I know the picture is reminiscent of rather more unappetizing things, I've got a family recipe for this, but it uses tomato soup, is baked, and makes a ton. This is far more manageable for my family, and I think it tasted better as well. They are called porcupines, see, because the rice is like quills on a porcupine. Try this one out! It is delightful. But cut down on the salt.
Baby Green Limas:
Oh my word lima beans are foul. I saved time by using that new-fangled freezer section you've heard so much about, and followed the package directions exactly. Did you know you're supposed to microwave those suckers for 10-12 minutes?? They were pasty and horrid. I choked down about 4 beans, and chucked the rest in the garbage after Husband had scraped the rest of his back into the bowl.
Festival Peach Salad:
This tastes weird. Separately, I like all these ingredients. Combined, it is just... weird. Not terrible, just really
odd
.
Chocolate Parfaits:
Still recuperating from the
breakfast parfaits
.