Jiffy Cooking
, by Better Homes and Gardens [1967]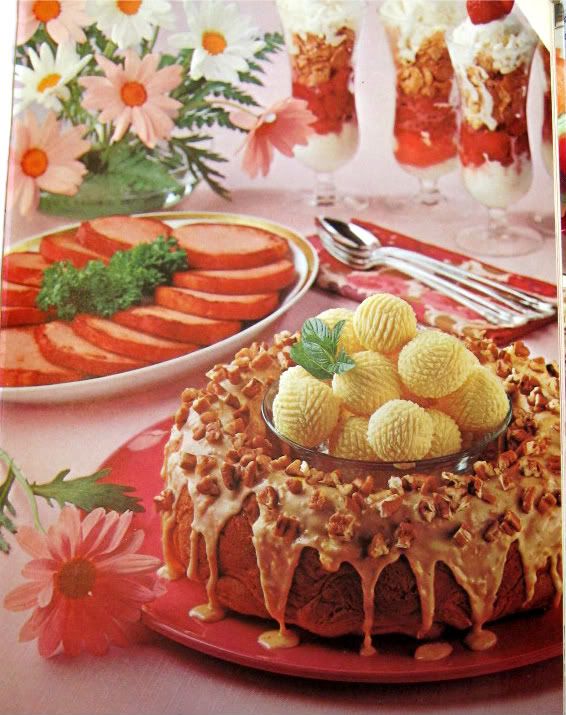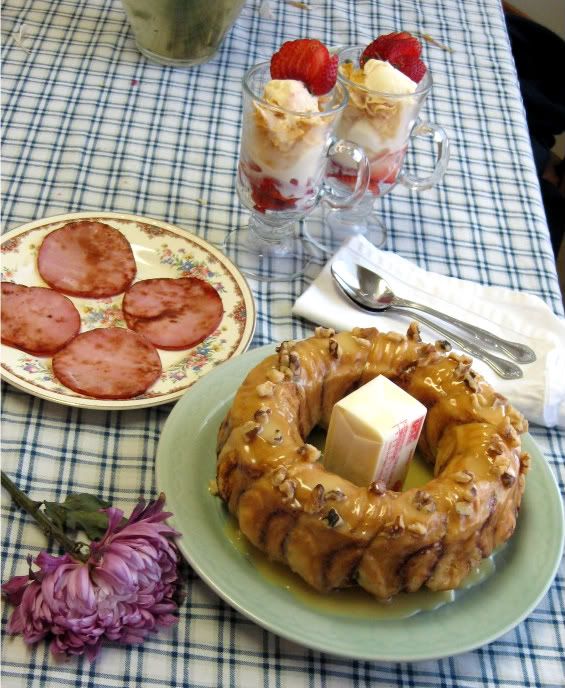 This book has served me
reasonably well
in the past
, save for the
unfortunate orange-cherry cobbler incident
. I am beginning, however, to notice a distinct tendency towards the use of massive amounts of sugar. This menu is no exception. My tummy hurts.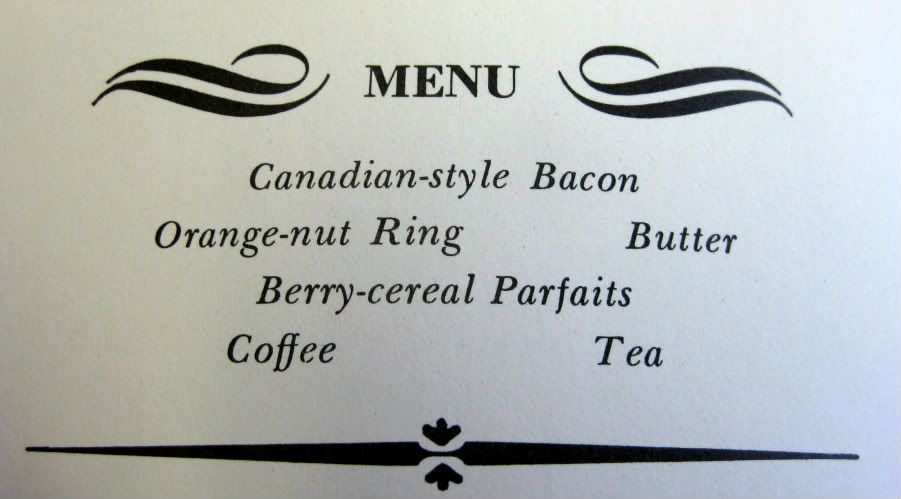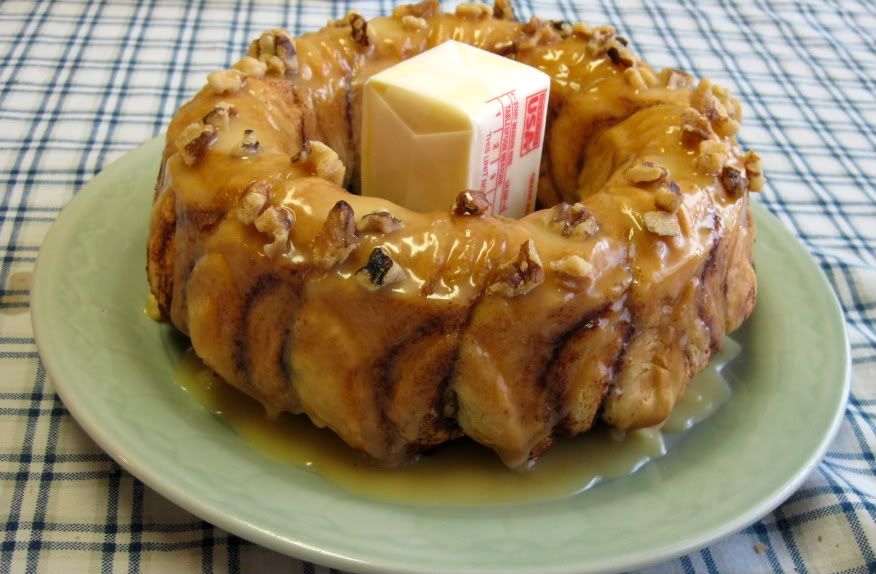 Orange-Nut Ring


2 packages refrigerated orange or cinnamon Danish rolls with icing (16 rolls)
1/4 cup chopped pecans

Separate rolls and arrange 1 package (8 rolls) flat side down, around bottom of ungreased 6 1/2-cup ring mold. Stagger remaining package of rolls on top of first layer, covering seams of rolls on bottom layer.

Bake at 375 degrees F. for 20 to 25 minutes. Invert on serving plate while warm. Spread top and sides with frosting included in packages. Decorate with nuts. Serve warm with butter. Makes 8 servings.

Serve with sliced Canadian-style bacon browned lightly in a skillet.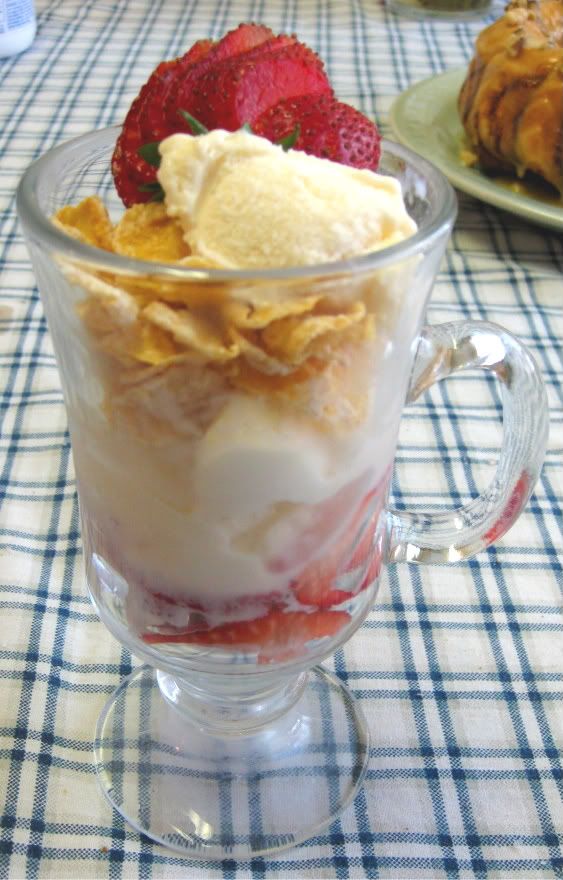 Berry-Cereal Parfaits


1 quart vanilla ice cream
2 10-ounce packages frozen sliced strawberries, partially thawed
2 cups sugar-frosted corn flakes

In each tall parfait glass, layer about 1/4 cup vanilla ice cream, about 3 tablespoons partially thawed strawberries, and 1/4 cup corn flakes. Top with another 1/4 cup vanilla ice cream and garnish with fresh strawberry halves, if desired. Makes 8 servings.



Verdict:





Orange-nut Ring:

This is a thing of beauty! Look at it, it is glorious! It takes like 5 minutes of effort, total, and you get a beautiful ring of pull-apart pastry covered in orange glaze. It doesn't even stick to the pan! If I ever have to make a dessert and have 5 minutes to spend on it, I am SO making this again. AWESOME.

I rebelled and did not arrange the rolls in the manner prescribed, nor did I use a 6 1/2 qt. ring mold. I used a much smaller pan, and arranged the rolls thusly: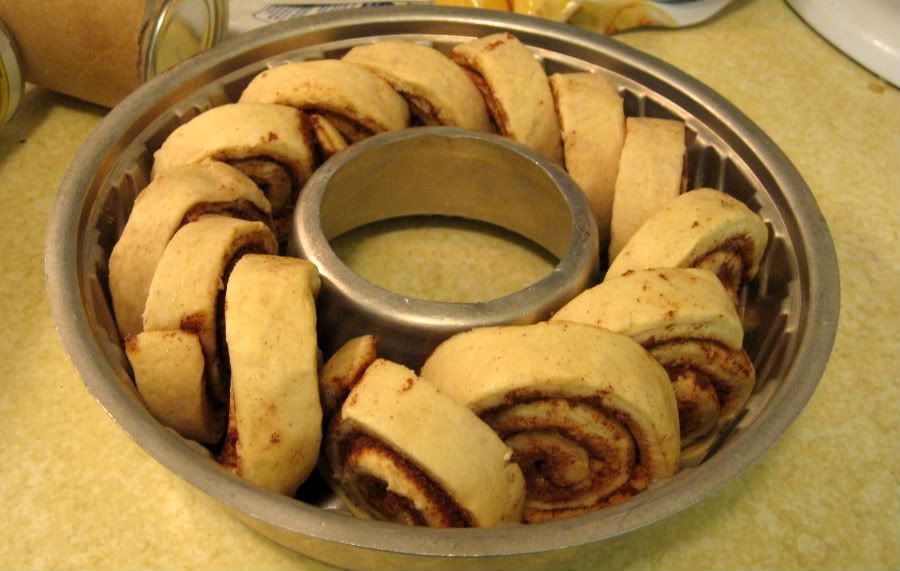 I feel my method is superior in attractiveness and ease of eating. You can just pull off a piece of pastry! So delightful. Three of the rolls didn't fit, though, and had to be cooked separately.
One thing though. The butter. If you recall, in the recipe, it says to serve with butter. The picture has an attractive bowl of butter balls. WHY? There is no good reason for this nonsense! Just... just... why would you even... I don't...
Berry-cereal Parfaits:
Upon first glance, I know this looks reasonable brunch food. You may think this has yogurt in it, having not read the recipe carefully. If you have not, go back now. I will wait. .... Done? Good. Now take a moment to cease your weeping, nutritionists. Yes, this is a brunch parfait made of ice cream, sugar-coated cereal, and THREE TABLESPOONS of strawberry. The only fruit or vegetable in this entire meal
does not even make up 1 serving
. I cheated and did not use the proportions listed, because I was just feeling too guilty. Even with rather a lot more strawberry and rather less ice cream, this... this just isn't right.
All together:
I don't feel good. Kind of jittery. Want steak. Or broccoli.
Just for fun, I plugged in the information for this meal to Livestrong's
MyPlate
program. For 2 small rolls, 1 parfait, and 2 slices Canadian bacon (i.e. not very much, actually):
704 calories
36g fat
39 g sugar