Common, vulgar readers! I realize I have been remiss about addressing you, instead only speaking to my gentle readers. Forgive me. This meal is for you! We have here SPAM, beans, and marshmallow fluff. Glorious.
Do you remember
Jiffy Cooking
[1967]? Yes. It did not disappoint us last time, and it did not disappoint us this time!
Baked Bean Pie
Celery Sticks and Radish Roses OR Tossed Green Salad
Parsleyed Rye Bread
Peppermint Ice Cream (replaced with Lazy Day Grasshopper Pie, because it was more interesting)
Milk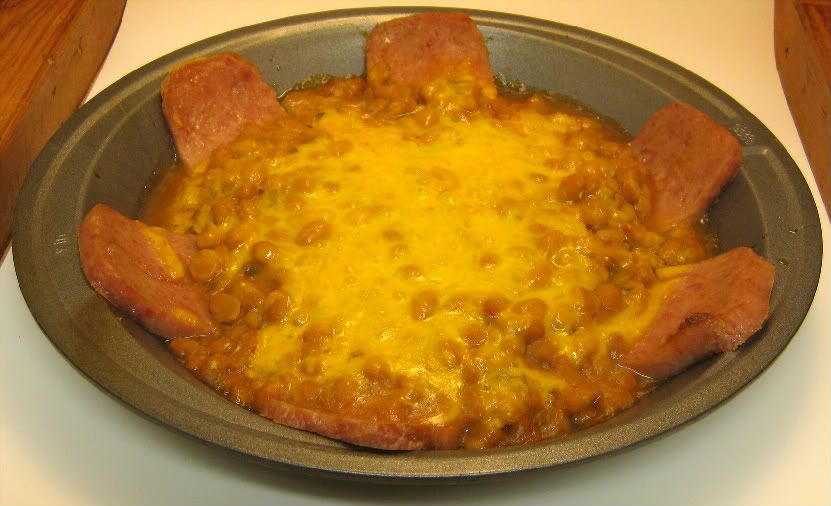 Baked Bean Pie
1 12 oz. can luncheon meat [
SPAM SPAM SPAM SPAM SPAM SPAM SPAM SPAM!
]
2 tablespoons maple-flavored syrup
. . .
1 1-pound 5-ounce can pork and beans in tomato sauce, partially drained
2 tablespoons hot dog relish
1 teaspoon instant minced onion
1/4 cup shredded sharp process American cheese
Cut luncheon meat into 8 slices; brush each slice with syrup. Arrange meat slices around inner edge of 9-inch pie late. In saucepan, combine pork and beans, hot dog relish, and onion; bring to boiling. Pour bean mixture into pie plate; sprinkle with shredded cheese. Bake in moderate oven (350 degrees F.) 20 minutes or till meat is lightly browned. Serves 3 or 4.
Parsleyed Rye Bread
Spread 4 slices dark rye bread with about 2 tablespoons softened butter or margarine. Sprinkle with 2 tablespoons snipped parsley. Place on baking sheet and bake in a moderate oven (350 degrees F.) about 15 minutes, or till toasted. Serve warm. Makes 4 servings.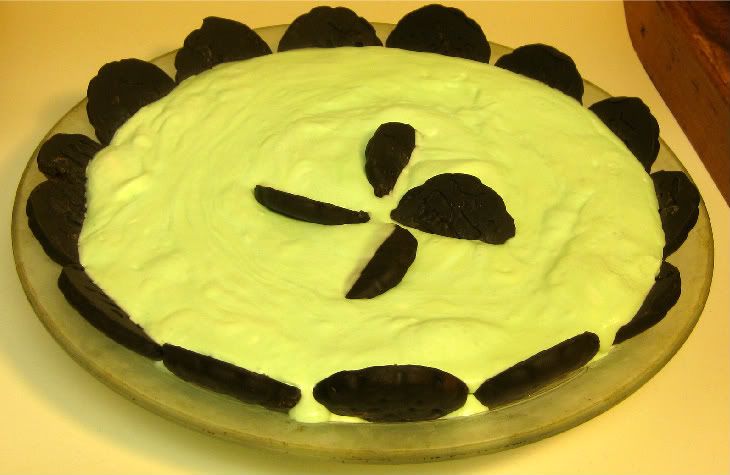 Lazy Day Grasshopper Pie
A dessert that can be made the night before and forgotten till serving time--
Chocolate wafer cookies
1 1-pint jar marshmallow creme
1/4 cup milk
4 drops peppermint extract
6-7 drops green food coloring
. . .
1 cup whipping cream, whipped
Line bottom of 9-inch pie plate with chocolate wafer cookies, filling in spaces between with pieces of cookie. Line sides of the pie plate with half-cookies.
In mixing bowl, combine marshmallow creme, milk, peppermint extract, and food coloring, whip till fluffy. Fold in whipped cream. Spoon filling into cookie crust. Freeze till firm, 8 hours or overnight. Garnish with dollops of additional whipped cream, if desired. Makes 6 to 8 servings.
Verdict:
Baked Bean Pie:
Surprisingly good! Husband said he wouldn't mind if it came back again, even. Would I buy the ingredients just to make this again? Probably not. But if these were the things I had on hand, I absolutely would. This might be a good meal for
food storage night
. I have noticed that in the 50's and 60's cookbooks, there is a lot of emphasis on making food
symmetrical
, and out of ingredients that are familiar and canned. In that respect, this is absolutely typical of the time.
Parsleyed Rye Bread:
It was fine. But I will tell you a thing I learned when buying this bread! Regular American rye bread contains almost no rye. Coloring is added to make it appear darker, healthier, and more rustic, while still tasting almost identical to the ordinary squishy bread you are used to. A triumph of modern science! Hooray!
Lazy Day Grasshopper Pie:
Guys. Guys. This pie. It is awesome. I interpreted "chocolate wafer cookies" to mean "Girl Scout Thin Mints." I used an entire box. Guys? In short, this pie contains cookies, marshmallow fluff, and heavy cream. Frozen. How can you go wrong? Answer: you can't. It is great. The unsweetened whipped cream that is folded in cuts the sweetness of the marshmallow cream, as does the freezing, as things taste less sweet when they are frozen. Not hugely though, so don't get silly. I would advise tasting the filling to see if you need to add more peppermint flavoring, though.
ALSO.
Notice the recipe. It says "1-pint jar marshmallow cream." Let us look at the package.
1 pint is 16 ounces. This, the largest container, is 13 ounces. This is something I have noticed a lot using old recipes. Most cans and packages contain sliiiiiiightly less than they did years ago, from Jello to canned vegetables. Do you think they lowered the price when they lowered the amount? You take a guess. ;) And notice, this jar is super pleased that it is
still 13 ounces
.
Uh huh. And according to Cadbury, "
Our eggs haven't gotten smaller, you've just gotten bigger!
"