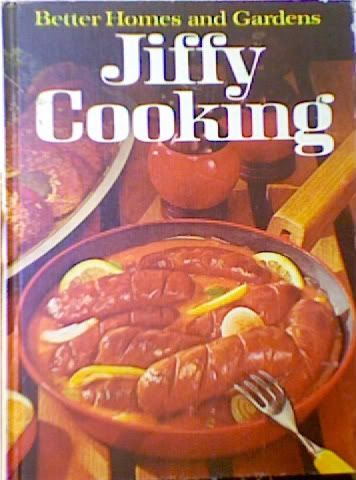 Today's menu comes from Better Homes and Gardens'
Jiffy Cooking
[1967]. After various menus from the 1800's that take a lot of time, this book was a refreshing change! Some of the recipes are just cheating, though. The recipe for pea soup? Heat up a can of pea soup. Still, I won't complain!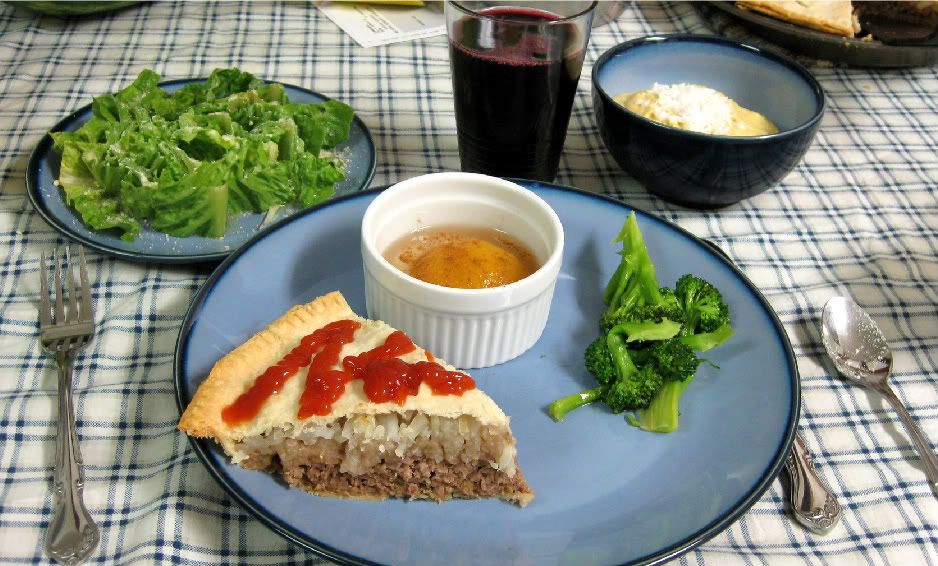 Tasty.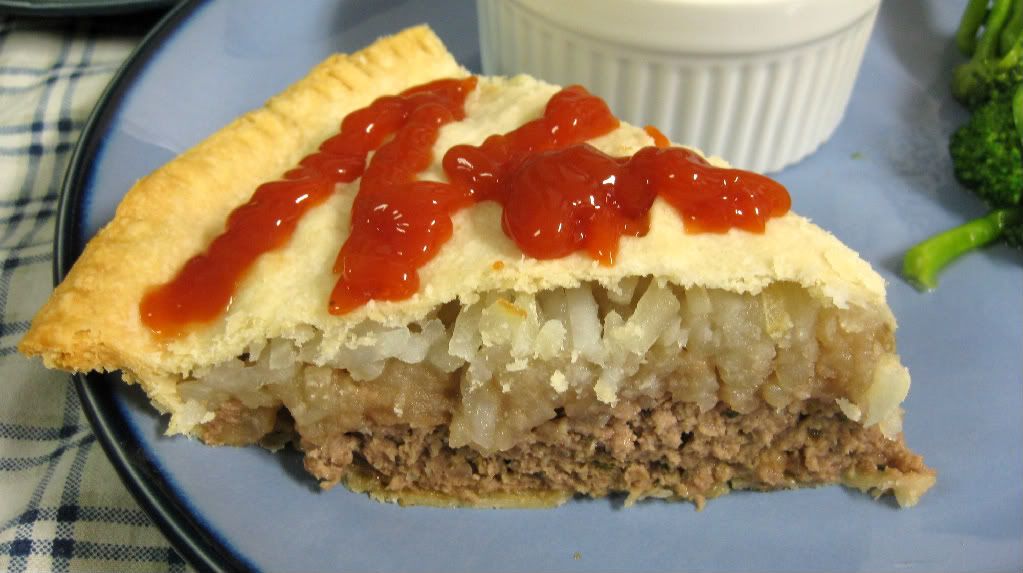 Meat and Potato Pie
2 sticks pie crust mix [I made my own]
1 pound ground beef
1/2 cup milk
1/2 envelope (1/4 cup)
dry
onion soup mix
Dash pepper
Dash allspice
1 12-ounce package loose-pack frozen hash-brown potatoes, thawed
Prepare pie crust mix according to package directions; roll out for 2-crust 9-inch pie. Line 9-inch pie plate with pastry. Combine meat, milk, soup mix, pepper, and allspice; mix gently. Lightly pat into pastry lined pie late. Top with potatoes. Adjust top crust; seal and flute edge. Cut design in top pastry. Bake at 350 about 1 hour, or till browned. Serve with warmed catsup. Makes 6 to 8 servings.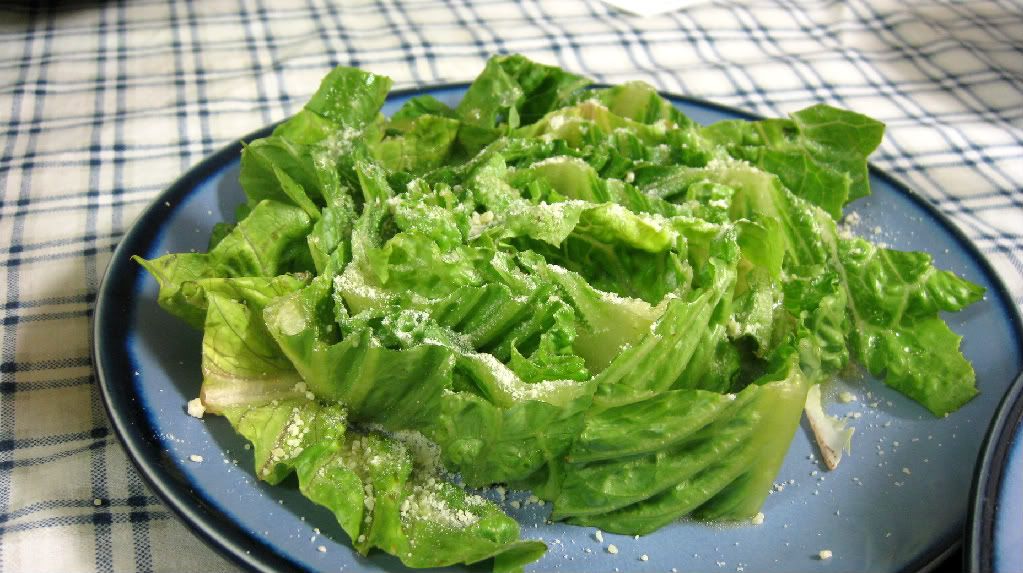 Cheese-topped Lettuce
Blue cheese (1 ounce per serving)
Lettuce, cut in crosswise slices
Oil and vinegar salad dressing
Thoroughly chill blue cheese in freezer for 20 minutes. Place lettuce slices on salad plates; spoon vinegar and oil dressing over each slice. Shred a generous fluff of cheese over each lettuce slice. Serve immediately.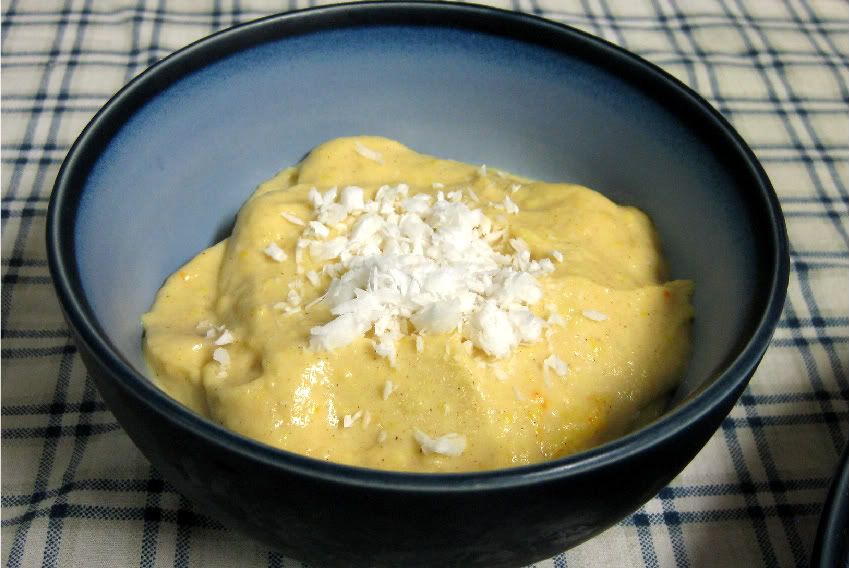 Banana Cream Pudding
MAKE AHEAD RECIPE
2 3-3/4 or 3-5/8 ounce packages
instant
vanilla pudding mix
2 cups cold milk
1 cup dairy sour cream
1/2 teaspoon ground cinnamon
Dash ground nutmeg
2 medium bananas, sliced
Flaked coconut
Combine pudding mix, milk, sour cream, and spices in bowl. Beat till ingredients are well blended. Fold in sliced bananas. Spoon into sherbet glasses; chill till served. Top with coconut before serving. Serves 8.
Verdict:
Meat and Potato Pie:
I have seen many menus for "Man-Pleasing" meals. This most definitely fits into that category. Beef, potatoes, pie. Yum. Seriously, this one was really good. It is probably going to come back. The onion soup mix totally made the ground beef layer. I will confess, I did not thaw the hash browns, nor did I warm the catsup. Neither made a difference. I had some for breakfast today, and it was still delicious. Next time I make this, I will add a layer of cheese. It practically cries out for a nice sharp cheddar.
Spiced Peach/Buttered Broccoli Spears:
These did not have recipes. There is some sort of spiced peach recipe that involves vinegar and canning, but since it didn't specify, I just sprinkled some cinnamon in canned peaches. I was appreciative of this meal including multiple fruits and vegetables, unlike some of the other ones I've done!
Cheese-topped Lettuce:
I am not a fan of blue cheese. I used parmesan cheese instead. The salad dressing was 1 part
lime vinegar
, 3 parts olive oil, and a sprinkle each of salt, pepper, and sugar. I recommend, it was citrusy and refreshing. I am pretty sure you are supposed to use iceberg lettuce (it is the 60's, after all) to get those nice neat slices. The romaine I used fell apart. For a party or holiday when you want to serve a fancy looking salad but have very little time, this is an excellent option!
Duo-dressed Cheese-topped Lettuce is easy and unique. For a fluffy topper, chill the blue cheese well before shredding it.
Banana Cream Pudding:
Whoaaa. This was super rich. Husband downed his pudding, but it was a little too much for me. It was really good though. The sour cream added a tangy richness that was just too much for me to handle. The milk is cut in half as well, which might add to the problem. In the future, I might try this using all of the milk, and folding in 1/4 as much sour cream as milk.