Hasty pudding is not hasty. Perhaps the name is ironical.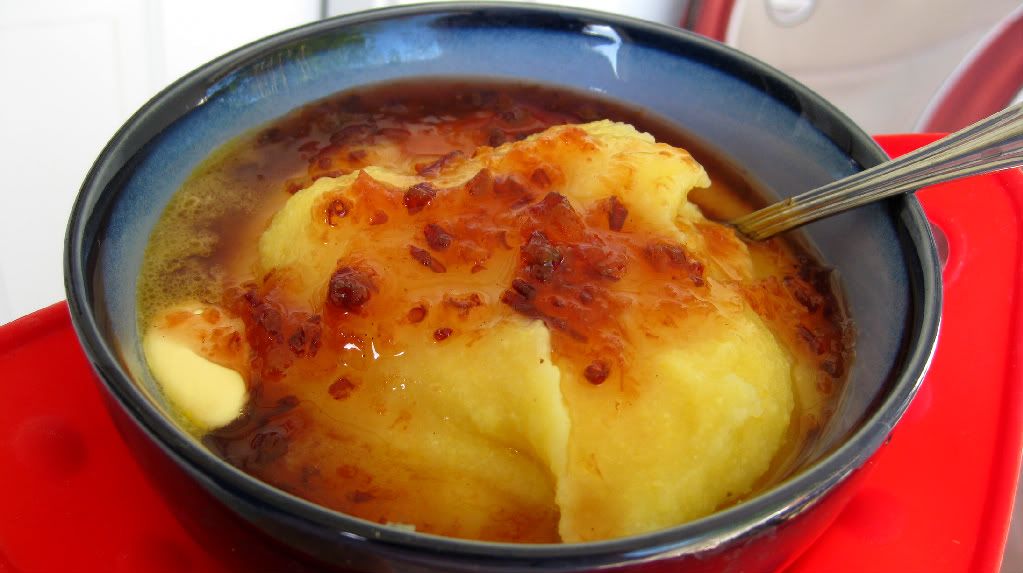 CORN-MEAL MUSH OR HASTY PUDDING.
Put two quarts of
water
into a clean dinner-pot or stew-pan, cover it, and let it become boiling hot over the fire; then add a tablespoonful of
salt,
take off the light scum from the top, have sweet, fresh yellow or
white corn-meal;
take a handful of the meal with the left hand, and a pudding-stick* in the right, then with the stick, stir the
water
around, and by degrees let fall the meal; when one handful is exhausted, refill it; continue to stir and add meal until it is as thick as you can stir easily, or until the stick will stand in it; stir it a while longer, let the fire be gentle; when it is sufficiently cooked, which will be in half an hour, it will bubble or puff up; turn it into a deep basin. This is eaten cold or hot, with
milk
or with
butter,
and
syrup
or
sugar,
or with
meat
and
gravy,
the same as
potatoes
or
rice.
~

WHITE HOUSE COOK BOOK: A SELECTION OF CHOICE RECIPES Original and Selected, During a period of FORTY YEARS' Practical Housekeeping

[1887]




Verdict:

This was really difficult to make without lumps. You really do have to put it in a pinch at a time. It was kind of glutinous, but it tasted fine. I also took it off the heat just a few minutes after I had put the last few pinches of cornmeal in. It is just like cream of wheat or oatmeal, only corn flavored. I topped it with butter and plum jam. If you are in need of a hot, filling breakfast, and are a fan of cream of wheat, this may just be the recipe for you to try.


*Probably a spurtle.