Ever seen one of these?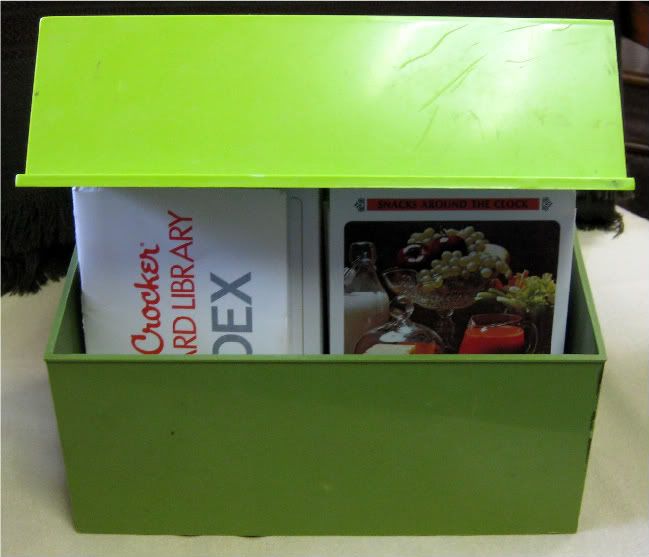 These recipe card libraries were popular in the 70's, as was this unfortunate shade of green. As you may guess, this is the era from which this week's menu comes.
Meal in a Muffin Pan
1 can (15 1/2 ounces) corned beef hash
6 eggs
salt and pepper
1/2 package of our corn muffin mix
Heat oven to 400 F. Generously grease 12 muffin cups. Press about 2 tablespoons hash in each of 6 muffin cups, making deep indentation in center of hash. Break an egg into each hash cup; season with salt and pepper.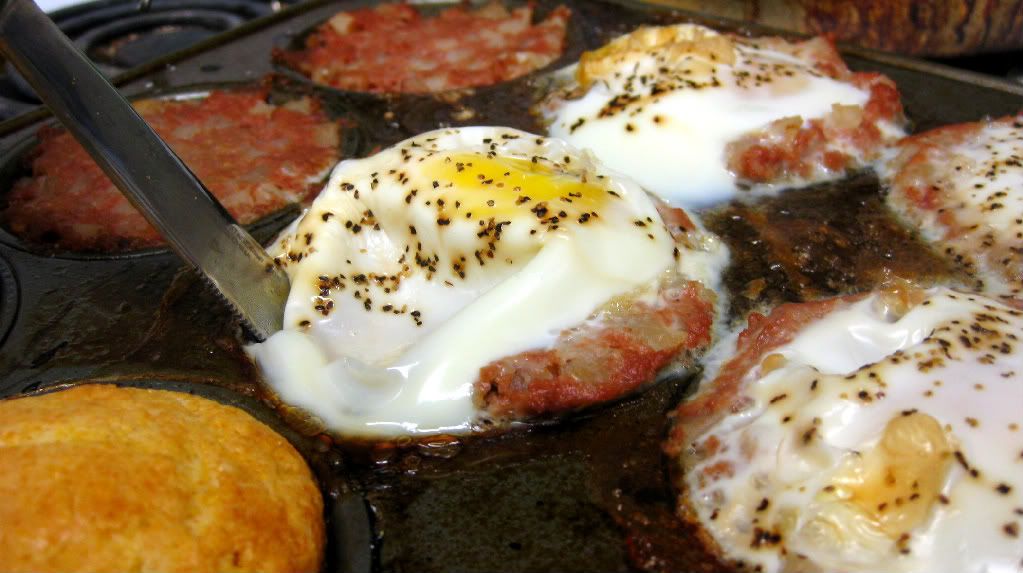 Prepare half package muffin mix as directed; fill remaining muffin cups 1/2 full. Bake 15 to 20 minutes or until muffins are golden brown and eggs are desired doneness. 4 to 6 servings.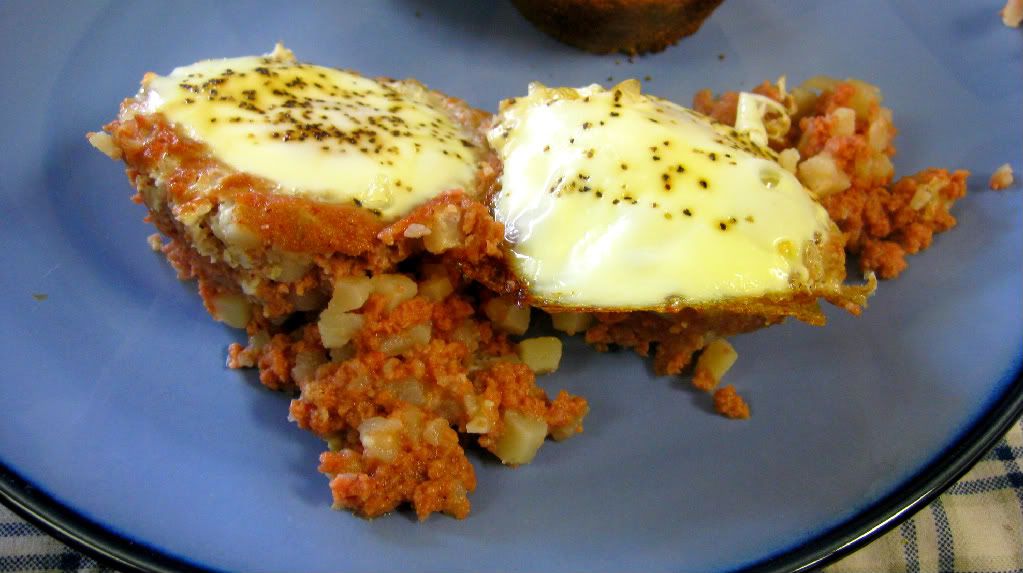 While the corn muffins and eggs-in-hash-nests bake, arrange mounds of jewel-toned fruits in one of the combinations below.
Fruit Cups:
Combine watermelon, cantaloupe, or honeydew melon balls, cubes or slices in dessert dishes or cups. Or combine one variety melon with other fruits.
Fruit Plates:
Arrange slices of melon, red plums and fresh peaches on small plates, then add small clusters of seedless green grapes.
Fruit Breakfast Salads:
Cut canteloupe [yes, they spelled it two ways.] crosswise into 3/4-inch slices. Remove seeds and rind. Serve melon rings filled with fruits such as blueberries, raspberries, grapes or melon balls.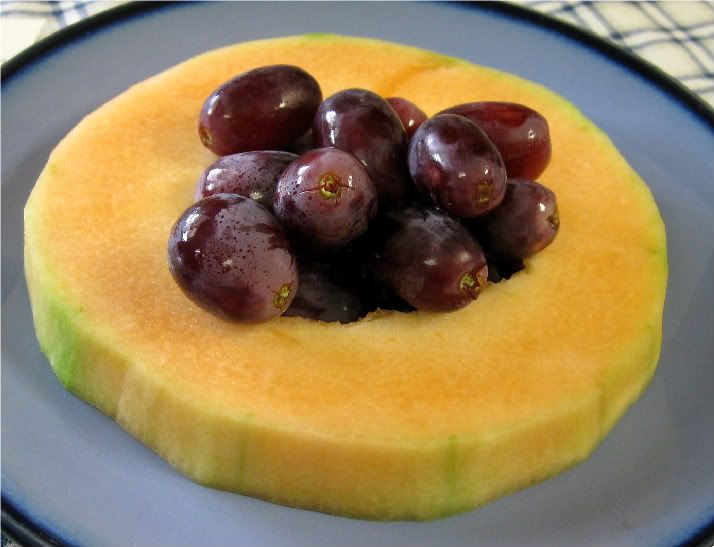 Verdict:
Eggs-in-hash-nests bake: I remembered canned corned beef hash through the rose-colored palate of my childhood, when we ate it a lot when we went camping. Man, that stuff was delicious. It led to the following incident in high school:
Giggling Boys: Hey! Hey Jana! Hey! HEYYYYYY. Hey. Hey. Hey. Hey. HEY.
Me: WHAT.
GB: Um, um, do you like hash? *snicker/elbow*
Me: Huh?
GB (now more confident): I said,
do you like hash?
I bet you do. You do, huh.
Me: Yeah, I love hash!
GB: WHAT.
Me: Yeah, my family has it all the time when we're camping. That stuff is dang good.
GB: ...........*look of shock and awe*
Me (
hours later
): Hey wait... OH! *facepalm*
Yikes. Anyway, having it again as an adult, this stuff is terrible. Salty pink pureed paste holding together tiny cubes of potato reminiscent of pork fat and this
smell
. This... I had to struggle through this. The first few bites I was carried by nostalgia, but after that, the real taste and texture hit me. Ron had to finish the last few bites for me, because the thought of bringing that fork to my face one more time made me worry that it might all come back up. You people know I've eaten some bad food in the course of this blog, but this, this is the worst so far.
Corn muffins:
I used a Jiffy mix instead of Betty Crocker brand. The shame.
Fruit breakfast salad:
It's kind of festive, isn't it? It tastes about like you'd expect.