This comes from
The Book of Twenty-five Cent Dinners for Families of Six
[1879], by Julie Corson, superintendendent of the New York Cooking School. You can read it
here
, at Project Gutenberg! I love Project Gutenberg. My very very favorite quote thus far comes from this book:
The cheapest kinds of food are sometimes the most wholesome and strengthening; but in order to obtain all their best qualities we must know how to choose them for their freshness, goodness, and suitability to our needs. That done, we must know how to cook them, so as to make savory and nutritious meals instead of tasteless or sodden messes, the eating whereof sends the man to the liquor shop for consolation.
Preach, Julie!
Fannie Farmer
needs to know. The atrocities she visits on defenseless sick people fill me with sorrow.
$.25 in 1879 is about $5.50 to $5.70 in 2010 money.
Both poultry and game are less nutritious than meat, but they are more digestible, and consequently are better food than meat for persons of weak digestive organs and sedentary habits. They are both excellent for persons who think or write much.
Roast Fowl.
—You can generally buy a fowl for about a shilling a pound; it need not be tender, but it ought to be fleshy in order to furnish the basis for two meals. Choose a fowl which will cost fifty cents or less; pluck all the pin feathers, singe off the hairs with a piece of burning paper, or a little alcohol poured on a plate and lighted with a match; then wipe the fowl with a clean damp cloth, draw it carefully by slitting the skin at the back of the neck, and taking out the crop without tearing the skin of the breast; loosen the heart, liver, and lungs by introducing the fore-finger at the neck, and then draw them, with the entrails, from the vent. Unless you have broken the gall, or the entrails, in drawing the bird, do not wash it, for this greatly impairs the flavor, and partly destroys the nourishing qualities of the flesh. Twist the tips of the wings back under the shoulders; bend the legs as far up toward the breast as possible, secure the thigh bones in that position by a trussing cord or skewer; then bring the legs down, and fasten them close to the vent. Put the bird into a pot containing three quarts of boiling water, with one tablespoonful of salt, an onion stuck with half a dozen cloves, and a bouquet of sweet herbs, made as directed on page 19; skim it as soon as it boils, and as often as any scum rises.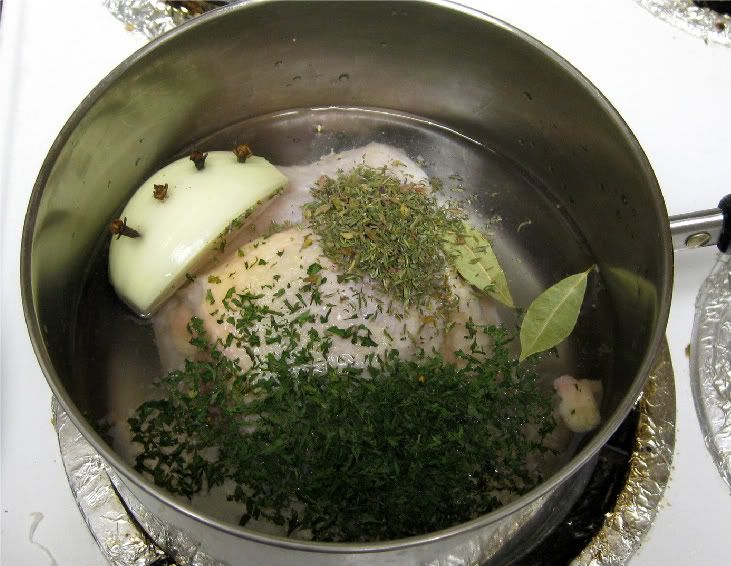 Meantime, while the fowl is boiling, peel one quart of potatoes, (cost three cents,) and lay them in cold water. At the end of one hour take the fowl from the pot, taking care to strain and save the pot liquor, put it into a dripping pan with the potatoes, season them both with a teaspoonful of salt, and quarter of a teaspoonful of pepper, and put them in a rather quick oven to bake for about one hour. When both are well done, and nicely browned, take them up on hot dishes, and keep them hot while you make the following gravy:
Chicken Gravy.
—Pour one pint of boiling water into the dripping pan in which the fowl was baked; while it is boiling up mix one heaping tablespoonful, or one ounce, of flour with half a cup of cold water, and stir it smoothly into the gravy; season it to taste with pepper and salt, and send it in a bowl to the table with the chicken and potatoes.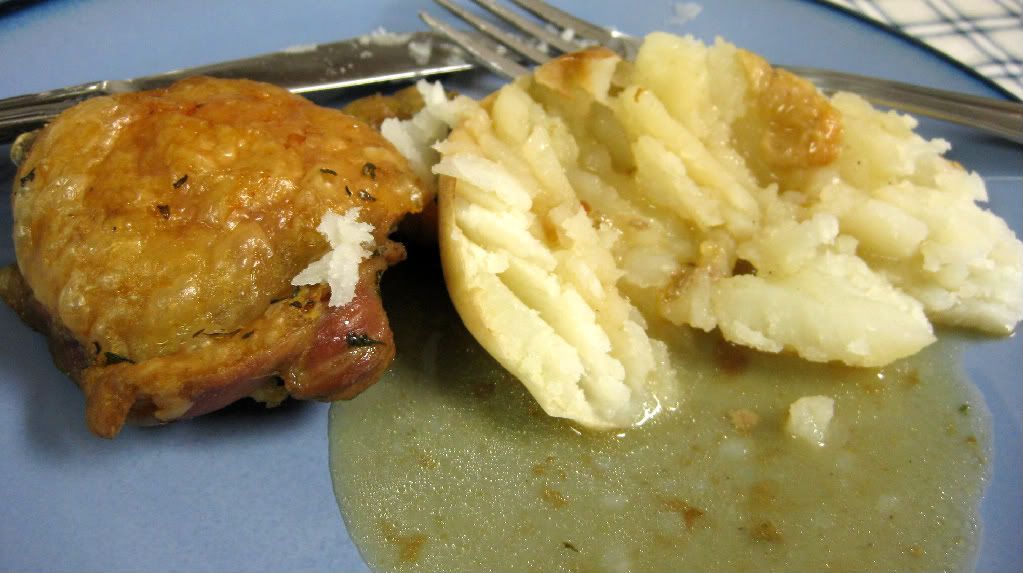 Dried Herbs.
—When you buy a bunch of dried herbs rub the leaves through a sieve, and bottle them tightly until you need them; tie the stalks together and save them until you want to make what the French call a bouquet, for a soup or stew. A bouquet of herbs is made by tying together a few sprigs of parsley, thyme and two bay-leaves. The bay-leaves, which have the flavor of laurel, can be bought at any German grocery, or drug-store, enough to last for a long time for five cents.

Good puddings are nutritious and wholesome, and an excellent variety can be made at a comparatively small expense.
Half-pay Pudding.
—Carefully wash and dry a quarter of a pound of Zante currants, (cost three cents,) stone the same quantity of raisins, (cost three cents,) and chop an equal amount of suet, (cost two cents;) mix them with eight ounces of stale bread, (cost three cents,) three tablespoonfuls of molasses, half a pint of milk, and a teaspoonful each of spice, salt, and baking powder, (cost four cents.)
Put these ingredients into a mould which has been well buttered and floured, and steam them about three hours.
If by any mischance the top of the pudding is watery, you can remedy it by putting it into a hot oven for ten or fifteen minutes to brown. When you are ready to use it, turn it from the mould and send it to the table with some CREAM SAUCE. This is an excellent plum pudding, and costs only about twenty cents, including sauce.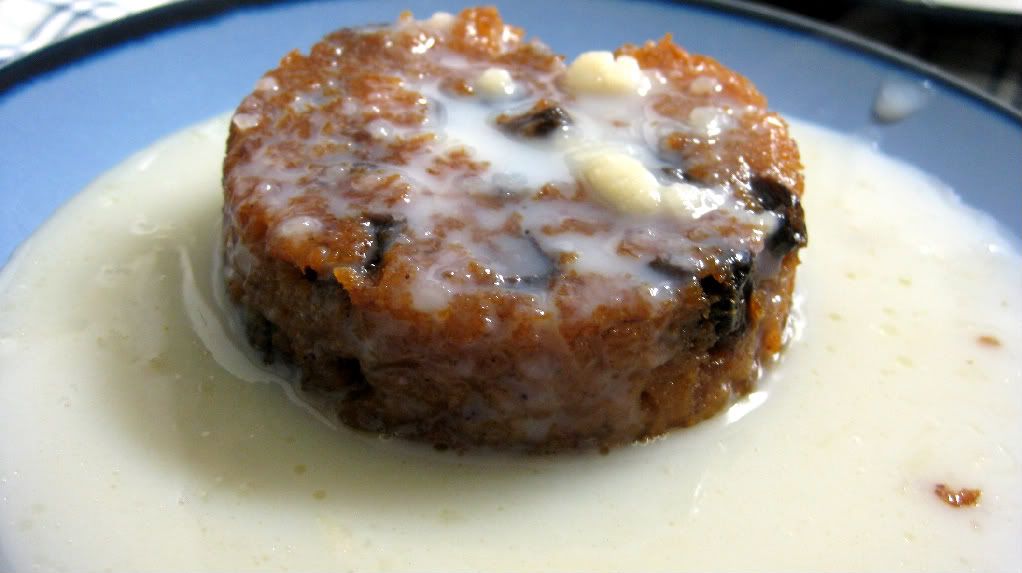 Cream Sauce.
—Stir together over the fire one ounce each of flour and butter, (cost two cents;) as soon as they are smooth pour into them half a pint of boiling milk, (cost two cents,) add two ounces of sugar and half a teaspoonful of lemon flavoring, (cost two cents,) and use with the pudding as soon as it boils up. The sauce and pudding will cost about twenty cents.
ALSO!
Julie recommends you also do this for dinner the next two days:
Fried Chicken.
—Dip the pieces of chicken saved from the Sunday dinner into a batter made according to the following receipt, and fry it a delicate brown color in quarter of a pound of olive oil or sweet drippings, or lard, (cost three cents,) heated until it is smoking hot. Before you begin to fry the chicken, wash one quart of potatoes, (cost three cents,) pare off a ring from each, and put them to boil in plenty of well salted boiling water. When the chicken is done take it up with a strainer, and lay it for a few minutes on brown paper to free it from fat; then serve it hot, with the boiled potatoes.
Frying Batter
.—This batter will do nicely for chicken, fish, clams, cold boiled parsnips, or fruit of any kind, of which you wish to make fritters. The oil is added to it for the purpose of making it crisp. Many persons object to the use of oil in cooking, from a most foolish prejudice. It is a pure vegetable fat, wholesome and nutritious in the highest degree; and the sooner our American housewives learn to use it in cooking the better it will be for both health and purse. I do not mean the expensive oil, sold at fine grocery stores for a dollar a bottle, but a good sweet kind which can be bought at French Épicerie or German Delicatessen depots for about two dollars and fifty cents a gallon. Make the batter by mixing together four heaping tablespoonfuls of flour, (cost one cent,) a level teaspoonful of salt, the yolk of one egg, (cost one or two cents,) two tablespoonfuls of oil, (cost one cent,) and one gill of water, or a quantity sufficient to make a thick batter; just as you are ready to use it, beat the white of the egg, and stir it into the batter; the cost will be three or four cents, and the use of it will double the size and nicety of your dish.
Chicken Broth.
—Heat the broth in which the fowl for Sunday dinner was boiled, and when it is at the boiling point throw in quarter of a pound of rice, or fine macaroni, which will cost three or four cents, and boil it about twenty minutes, or until tender; see if the seasoning is right, and serve it hot.
Whew. Sorry about all that reading. Now onto the
Verdict!:
Roast Fowl: I used a couple chicken thighs instead of an entire chicken, and I'll admit now that I did not actually kill, pluck and gut it myself. The shame, I am filled with it. Anyway, this was... really good. I thought the boiling it and THEN roasting it was weird, but it actually worked well! The boiling rendered off a lot of the fat, so later when the chicken was roasted it crisped up to deliciousness without that under layer of gross fat. Bleargh. It was nice and tender as well. And, bonus, I got broth for... whatever I need broth for. Woo!
Potato: It's, you know, a potato. This meal has zero real vegetables. I hope the poor folk reading this book didn't get scurvy or anything.
Half-pay Pudding: So yeah! A steamed pudding. Gentle readers, I tried to find suet. I made a valiant effort. I actually talked to the guy in the butcher department.
"Do you guys by any chance have suet?"
"What... what is suet?"
"It is the solid fat from around the kidneys of cows."
"Oh. I call that 'kidney fat'. And no. We don't. Try the butchering school."
Pfft.
I also used sorghum molasses, for extra credit. Let's talk about sorghum!
Before shipping from the Caribbean became reasonably inexpensive, "molasses" in recipes referred broadly to 1.) the stuff from sugar cane and 2.) boiled down syrup from sorghum. Sorghum plants look like corn minus the corn, and have a veeeery high sugar content. Sorghum can also be grown in cool climates, unlike sugar cane. Thus, sorghum was much more readily available, since it could be produced at any local farm. It tastes much like molasses, but much milder and smoother. It is tasty on pancakes. And
super
annoying to make over a fire. Hate. So. Much.
Anyway! The pudding. It was okay! A little soggy, but I did use store bought bread, so that's my own fault. Kind of like a smooshy cinnamon roll. The sauce was tasty times. If you want to try it out, here is my altered recipe:
Half-pay Pudding
1/3 C. raisins and/or currants
1/4 C. suet or butter
2-3 pieces stale (or toasted) bread (2 if homemade, 3 if store bought. Ish.), crumbed
1 T. molasses
1/2 C. milk
1/4 t. each spice, salt, baking powder
Mix first set of ingredients in order listed. Divide into 2 greased ramekins. Cover ramekins with foil or parchment paper and tie on. Steam 1.5 hours (I put them over my vegetable steamer). Bake 5-10 minutes if it is too smooshy. Turn it onto a plate and put cream sauce over.
Cream Sauce
1/2 T. butter
1/2 T. flour
1/2 C. milk
1/4 C. sugar
1/2 t. vanilla or 1/8 t. lemon flavoring
Melt butter in a pan and stir in flour. Slowly add in milk and cook until slightly thickened. If it is boiling, it is as thick as it's going to get. Stir in other ingredients and cook until sugar melts.