This week's menu comes from the
Prudence Penny Regional Cookbook
[1954]. These regions include New England, the South, Pennsylvania Dutch, Creole, Michigan Dutch, Mississippi Valley, Wisconsin Dutch, Minnesota Scandinavian, Southwestern, Western, and Cosmopolitan. I sense a theme in the nationalities present in this list.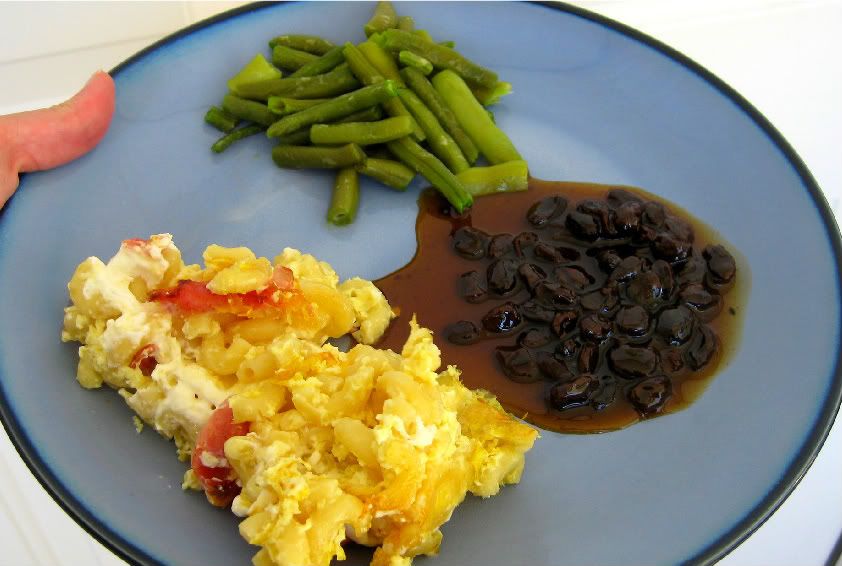 Roode Krentenbrig (Red Currant Soup)
Michigan Dutch housewives are famous for beautiful rose-colored fruit soups.
2 tablespoons barley
1 quart red currants
1 cup sugar
1/2 cup water
1 stick cinnamon
1/8 teaspoon salt
Soak barley overnight in 1 cup water. Wash and stem the currants, add sugar, water, and stick cinnamon. Cook over low heat for 15 minutes. Drain and put through a coarse sieve. Add barley with water and salt and simmer until barley is soft and juice thickened. Chill. Serves 4 to 6. Grape juice may be substituted for red currant puree.
BERRY SOUP--Red or black raspberries, huckleberries or blackberries may be used instead of red currants.
APPLE SOUP--Prepare as above using 1 quart diced tart apples instead of currants. Add red food coloring if desired.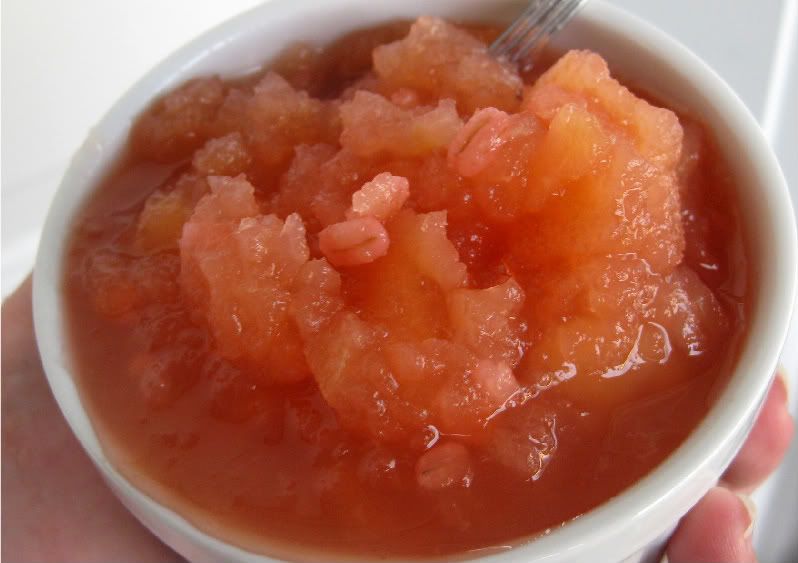 Macaroni Met Ham En Kaas (Macaroni with Ham and Cheese)

Macaroni "met ham en kaas" is a great favorite in the Michigan Dutch Country.
1 (8-ounce)
package macaroni
1/2 pound boiled ham, chopped
1 (3-ounce) package cream cheese
2 tablespoons butter
Nutmeg
4 eggs
1 cup milk
1 tablespoon finely chopped lemon peel
Cook macaroni in boiling salted water 12 minutes. Drain and arrange in layers in a greased baking dish with ham and cream cheese, dotting each layer of macaroni with butter. Sprinkle with nutmeg. Beat eggs, add milk, 1 teaspoon melted butter, lemon peel and pour over macaroni. Place in a pan of hot water and bake in a 350 degree F. oven 30 minutes. Serves 6 to 8.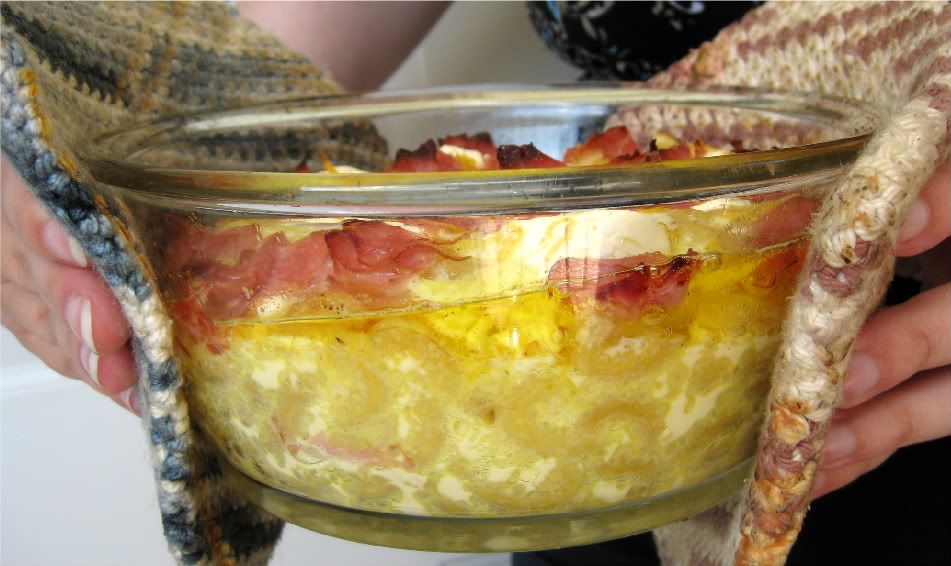 Rozijen (raisins)
2 cups seeded raisins
2 cups water
Few grains salt
2 tablespoons cornstarch
1/4 teaspoon cinnamon
1 cup brown sugar
Wash raisins, add water and cook 10 minutes. Mix salt and cornstarch with 3 tablespoons cold water, combine with cooked raisins and cook until thickened. Add cinnamon and brown sugar. Continue heating until sugar is melted. Serves 6.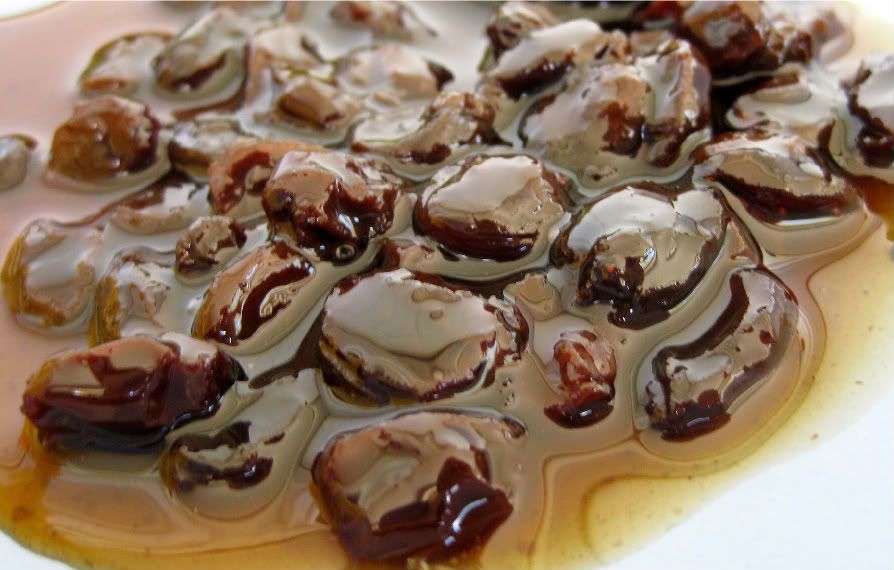 This was on the menu too, but I did not make it. We just had regular green beans.
Snijboonen (Cut Beans)
1 1/2 pounds string beans
1/2 cup salt (about)
Wash long, tender green beans well. Cut in thin slices diagonally. Place in an earthen jar in layers with 2 tablespoons salt sprinkled over each layer. When brine comes over beans they can be packed in fruit jars and covered with the brine. To prepare for serving, soak in cold water for a few hours and drain. If necessary, soak and drain a second time. Cover with fresh water and cook until tender. Makes 1 quart.
Verdict:
Apple soup:
This was basically homemade applesauce with barley. Pretty good, actually. The barley added a little something to chew on. If I ever get my hands on currants, I might try this one out again for funsies.
Macaroni met Ham un Kaas:
Macaroni met lemon-flavored scrambled eggs un chunks of cream cheese. Also with ham and a moat of melted butter floating gently around the rim. As it goes, it wasn't too bad. Besides the lemon, the flavor was pretty good, it just could have been constructed a lot better. The lemon was so strong that every time I accidentally got a little sugar syrup from the raisins on my fork, it instantly tasted like lemon custard with ham and macaroni in it. Odd.
Rozijen:
I like raisins. These were tasty, actually, but only for about two bites. After that, it was reeeeeeeeaally sweet. Raisins are pretty sweet by themselves, and with half their weight added in sugar, it was overwhelming. I ate a few bites and then had to stop. It would probably be better over cake or something.