Why is pound cake called pound cake? Because the traditional recipe for pound cake is very, very simple. This is one such recipe in its entirety.

Pound Cakes
One pound of flour, one of sugar, one of butter, ten eggs.
Simple. A pound each of flour, sugar, butter, and eggs. Yes, a full pound of eggs. Modern pound cake only contains a couple eggs and usually less butter. Wussy.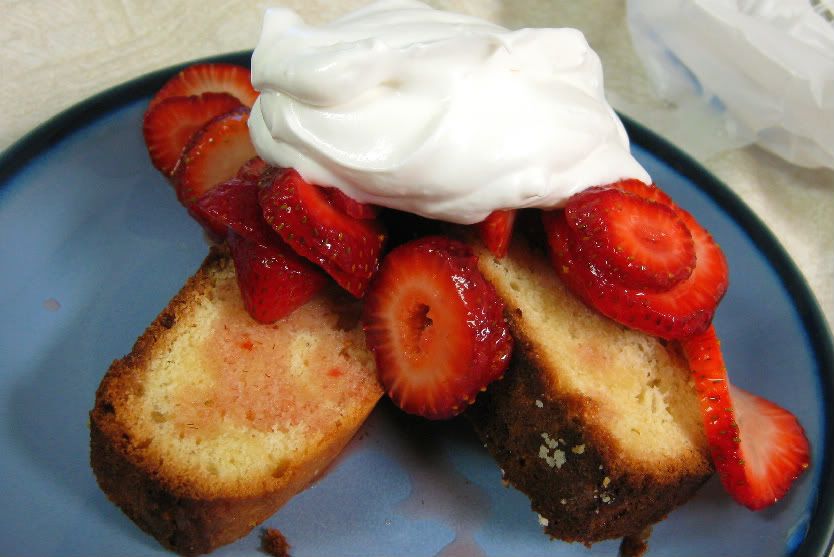 Here is the recipe I followed, from
The Good Housekeeping Woman's Home Cook Book
[1909].
Pound Cake as Our Mothers Made It
One pound of flour, one pound of butter, one pound of sugar, ten large eggs and about one-fourth of a nutmeg. Cream the butter and sugar together well (our mothers' rolled and sifted loaf sugar is better, but granulated sugar will answer the purpose), then add the well-beaten yolks of the eggs, and add the flour, a little at a time, beating very thoroughly all the while, lastly add the whites of the eggs which have been beaten to a stiff froth that can be cut with a knife, or that will adhere to the vessel in which it has been beaten, being careful not to beat the cake after the whites have been added, but merely to fold in the puff. Flavor with one-fourth of a grated nutmeg, which should be put in before the whites of eggs. Bake in a very moderate oven for one hour. The only improvement that could be made on this recipe would be to use pastry flour (which was not used in mother's time). The best authorities on cake baking declare that good results cannot be obtained without the use of pastry flour.--Mrs P. L. Sherman, Chicago.
Verdict:
Yum. Another example of simple ingredients yielding tasty results. It helps if one of the simple ingredients is butter. I also added a li'l orange blossom water, which was very nice. I actually quartered the recipe, so technically I suppose it is Quarter Pound Cake. Nonetheless.
If you ever find yourself with a desperate need for cake, but with absolutely no access to recipes, this is the cake for you!
For funsies, let us compare this traditional cake recipe to a recipe list of one of Martha Stewart's.
Cardamom Pound Cake
2 cups all-purpose flour, plus more for pans
3/4 cup almond flour
3/4 cup semolina flour
1 1/4 teaspoons coarse salt
3/4 teaspoon ground cardamom
1/4 teaspoon baking soda
2 sticks (16 tablespoons) unsalted butter, room temperature, plus more for pans
3 cups granulated sugar
6 large eggs, room temperature
1 tablespoon pure vanilla extract
1 cup plain yogurt, preferably Greek
1 tablespoon sanding sugar
Yikes. So needlessly fussy! Butter, flour, sugar, eggs. Done. You do not have to live under the tyranny of needless complication!