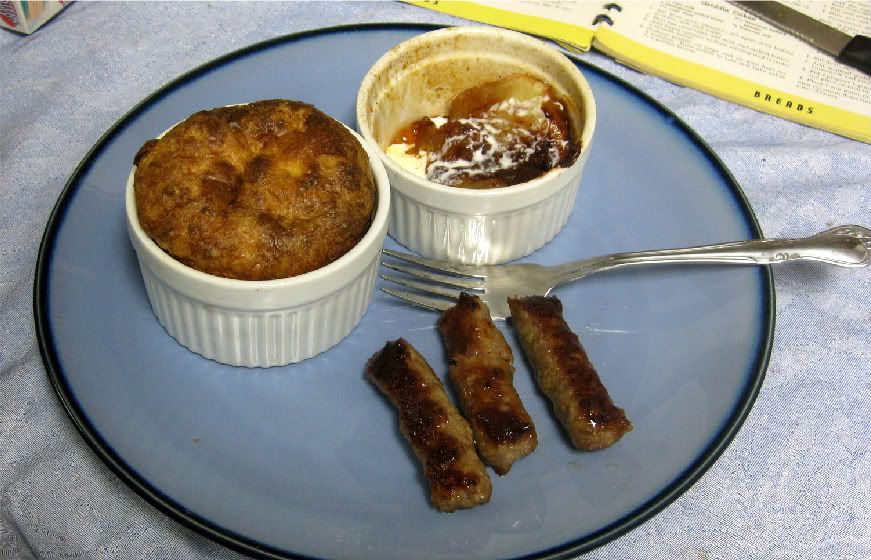 Dear readers, gentle and otherwise, I am filled with sorrow for my recent poor updating. Forgive me! I was ill, and also it is the time of harvest, when many things must be canned. But more about that another day!
I have a special treat for you today. It is this picture.
I'll let that sink in for a moment.
.
.
.
Yup. Please, click on it to see its full glory. It is produced by Hotpoint, makers of electric stoves of the future. Moreover, the back cover reads:
Sorry, non-Americans, guys, and members of the workforce. These recipes are not for you. I wish they could be, I really do, but I don't make the rules. The cookbook has spoken. I wouldn't try out these recipes on the sly if I were you, either. Those demon things will come and
get
you. While you sleep.
Now, on to our menu! Menus that could be put in the oven all at the same time were particularly trendy during the 40's and 50's. The food in this book, however, while garnished a little oddly at times, does not have the almost militantly symmetrical arrangement so popular in food photography of the 50's. Therefore, I am going to guess it is from the 40's.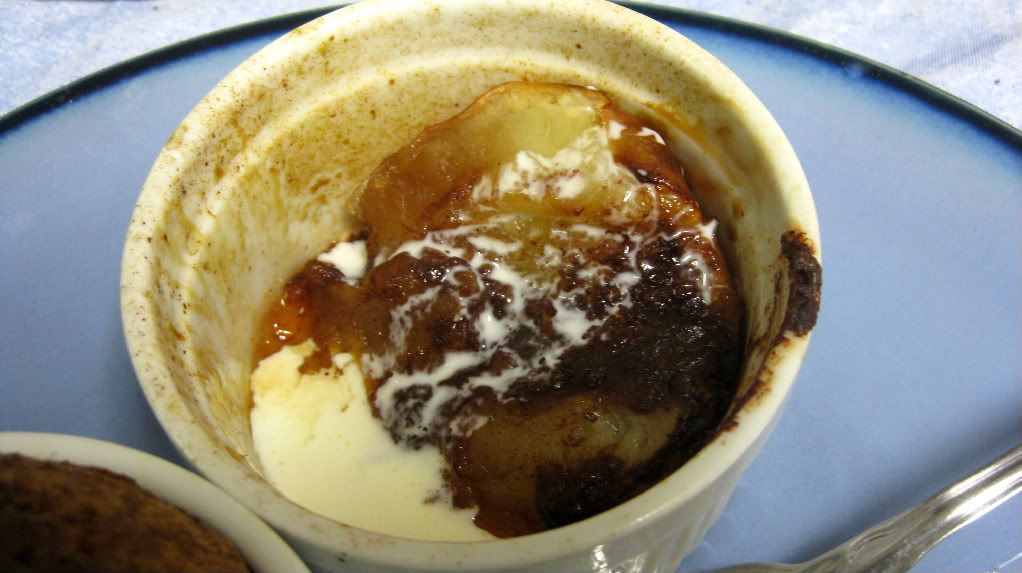 Baked Apples
Apples [baking apples. Do not try Red Delicious.]
Cinnamon
Sugar
Butter
Cream
1. Wash and core [do not cut all the way through, or the filling will run out!] desired number of large apples for baking.
2. Slash the sides in two or three places. [Not really necessary.]
3. Fill the cavity of each apple with 2 tablespoons of sugar, 1/4 teaspoon cinnamon, 1/4 teaspoon cutter and 2 tablespoons water.
4. Bake in a cold or preheated oven. Serve warm with cream.
Temperature: 350-400 degrees F.
Time: 1 hour or 1 hour and 15 minutes with oven meal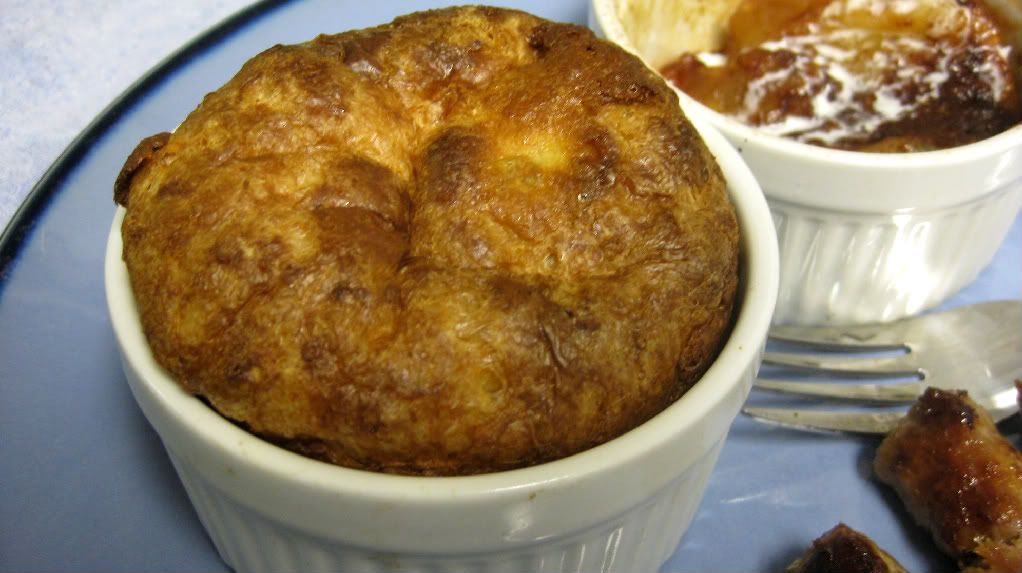 Pop-overs

(6 pop-overs)
2 eggs
1 cup flour
1 cup milk
1 teaspoon melted butter
1/4 teaspoon salt
1. Sift flour and salt together.
2. Beat eggs slightly and combine with milk and melted butter.
3. Add the liquid mixture to the flour, stirring well to make a smooth batter.
4. Fill cold, well greased custard cups about half full of batter.
5. Place cups on cookie sheet.
6. Bake in cold or preheated oven.
Temperature: 425 degrees F.
Time: 1 hour


Verdict:

Baked Apples:
Mmm. Baked apples. Baked apples are good. Especially with cream drizzled over. Have I ever told you how much I love cream? I do. I do love cream. You may, however, notice that the picture here is really unattractive. This is because I only had one apple left when I thought I had two, so Husband and I shared one. Husband was also gone during dinner, and took the camera with him. Therefore, the picture you see here is half a baked apple. If you've never had one before, do not let this picture dissuade you. They are good! Try some ice cream on top. I've also had them stuffed with candy bar pieces before, so there's a use for your Halloween candy.
Country Sausage:
The cookbook had a recipe for this. It was on page 8. The cookbook goes from page 6 to page 9. I just bought some and chucked it in the oven.
Pop-Overs:
Our good friends milk, eggs, butter, and flour are back together again!
Is there anything they can't do? Having never had a popover before, I took a guess, poked a hole in the middle, and put butter and apricot jam inside. It was delicious. Delicious, but DANG was it ever hard to chip out! The outside of the pop-overs bonded to the inside of the ramekins like super glue. If I try this again, and I may, it will be with a different recipe.