Ah, a timeless recipe. A simple thing, with simple ingredients. When done right, it is very,
very
right. When done wrong, it is merely fine. Follow these directions precisely, and you will be filled with happiness. Stray, and you will say to yourself, "What's the big deal?"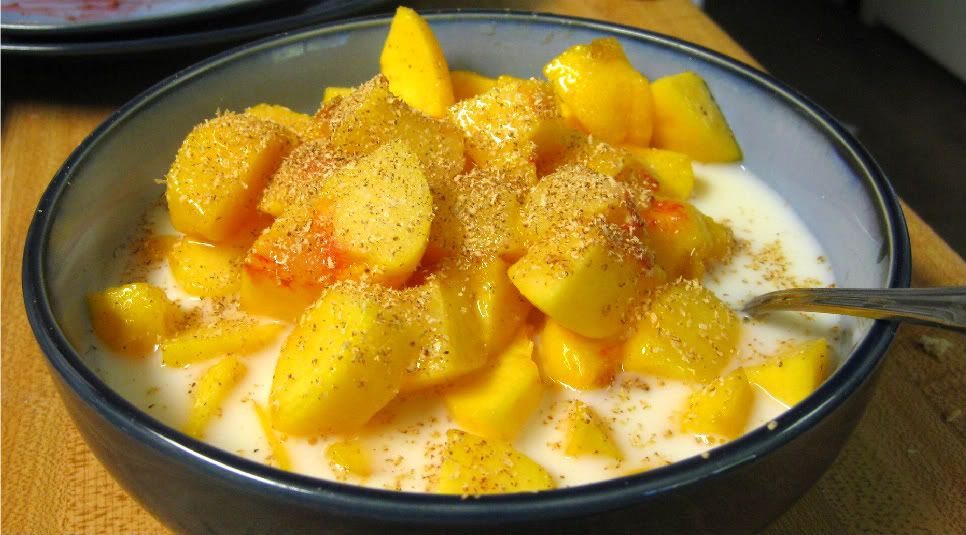 Peaches and Cream
-Peaches: Tree-ripened. Not picked green and ripened in a warehouse. This is important.
-Sugar
-Nutmeg: Freshly ground. Find yourself a whole nutmeg and grate it. Its fragrance will make your bottle of it seem like dust. For baking, fine. But this deserves better.
-Milk
-Cream: No backtalk!
Peel and slice the peaches. Sprinkle with sugar and grate nutmeg on top. Pour milk over the top, much like you are about to eat the peaches like cereal. Which you are. Drizzle with cream. Heavy cream. Yes. Do it. It is a drizzle. You will be fine. Eat without regret or guilt, but with joy and thanksgiving.