Betty Crocker Recipe Card Library
[1971],
Betty Crocker's Good and Easy Cookbook
[1972]
This time, I went crazy and just pulled out two recipes from Betty Crocker instead of making a set meal plan. I know! Nutty. But there you are. Sometimes one wishes to make extraordinarily unfussy food, and the 70's is prime real estate for that sort of thing. It was a time of using lots and lots of processed food. especially if your name is Betty Crocker.
This recipe used the other half-package of American cheese I had gotten for the Hot Dog Cheesies. Husband felt very sad. I reminded him that he himself had picked this recipe from a list of options I had pulled from the recipe card file. He said he should have looked at the ingredients instead of just looking at the pictures. I expressed surprise that he had not. He declared this to have been a foolish decision. I concurred. And promised ice cream.
I then inquired as to whether or not he had looked at the ingredients for the Pizza Potatoes he had also picked out. He had not. Oh dear.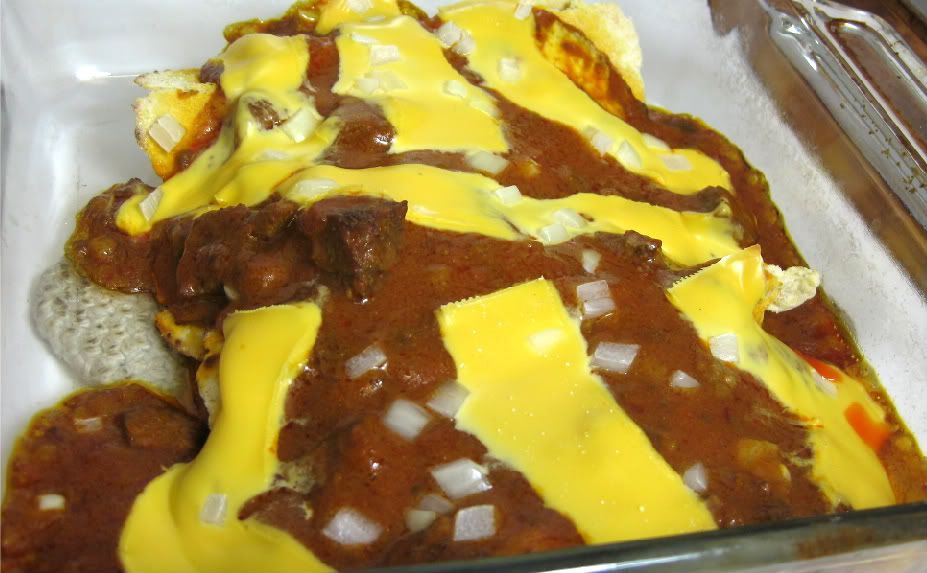 Chili Enchiladas
2 cans (15 1/2 oz. each) chili without beans
1/4 cup chopped onion
2 cups shredded process American cheese (about 8 ounces)
1 cup Bisquick baking mix
1/4 cup cold water
Cornmeal
Heat oven up to 350 degrees F. Mix 1 can chili, 2 tablespoons of the onion and 1 cup of the cheese; set aside. Stir baking mix and water to a soft dough. Gently smooth dough into a ball on floured cloth-covered board. Knead 5 times.
Divide dough into 8 equal parts; shape each part into a ball. Roll each ball into a 5-inch circle on board dusted with cornmeal. Bake on hot ungreased griddle about 1 minute on each side or until light brown.
Spoon about 1/3 cup of the chili mixture on center of each enchilada. Roll up; place seam side down in ungreased baking dish, 11 1/2 x 7 1/2 x 1 1/2 inches. Spoon remaining chili over enchiladas; sprinkle with remaining onion and cheese. Bake uncovered 20 minutes or until cheese is melted.
4 to 6 servings.
Your own soft tortillas rolled with chili, onion and cheese. Accompany with shredded lettuce and chopped red tomatoes.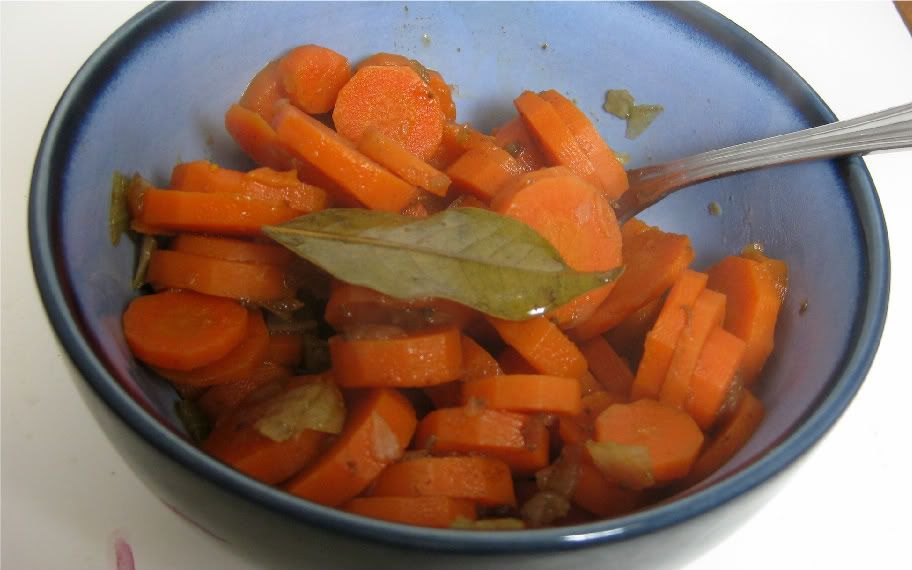 Carrots Bouillon
1 can (16 oz.) carrot slices
2 teaspoons instant minced onion
1 teaspoon instant beef bouillon
1 bay leaf
In covered saucepan, heat carrot slices (with liquid), onion, bouillon and bay leaf to boiling. Reduce heat; simmer 5 minutes.
4 servings.
Substitutions:
For instant onion: 2 tablespoons minced onion.
For instant bouillon: 1 beef bouillon cube.
Verdict:
Chili Enchiladas
: There was a lot of American cheese in this. It continues to grow on me in a strange way, and I think I could really get to like it if I ate it more. There was a
lot
though. It was
everywhere,
like stringy plastic. The "tortillas" made of Bisquick were maddeningly difficult to make. Cornmeal was absolutely
useless
to prevent sticking. I have made tortillas before. These were 100 times harder to make than actual tortillas made of flour and shortening. Husband really liked how they were a little crunchy, though. Sadly, this same crunchiness made them
so frustrating
to fill and roll. In the end, each one snapped into three pieces with cold chili sticking them together. By the time I had it put together, I was starting to realize that I could have picked a better "unfussy" recipe. Just because it's processed doesn't mean it's easy.
The taste, though, was kind of all right. It was basically chili with biscuit pieces in it and 'cheese' on top. I will endorse this recipe for your use, if you replace the tortillas with tortillas and the cheese with cheese.
Carrots Bouillon
: I foolishly assumed the recipe used fresh carrots instead of canned carrots, and did not realize the truth until I was making dinner. So, to substitute for the canned carrots, I overcooked the carrots. They were good though! Except for the overcooking, of course. It was like carrots from beef stew. If they had been canned carrots, this would have been wayyyyy too salty. And gross. It's an easy recipe that dresses up carrots a little bit, so I will not hesitate to recommend it. Just use fresh carrots, and don't overcook them! Oh, and in case you did not know, whoever finds a bay leaf in their food gets a kiss from the cook. So there's that.
Next Time:
Is it pizza? Is it potatoes? Who can say.