[1987]
What need for an oven when one has a wood-paneled microwave? Throw away that outdated appliance! Embrace the future of microwave cookery. Excelsior!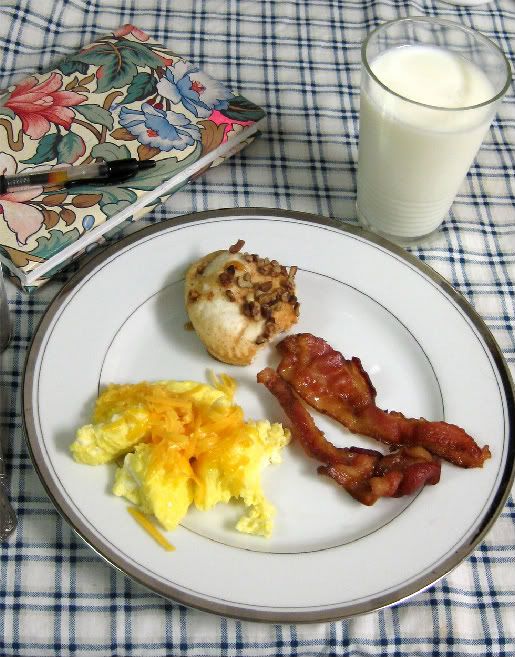 Dang, their plate is
tiny
.
NOTE: Every single step in these recipes has a corresponding instructional picture. These I have omitted. As with all the recipes on my blog, if you are confused at any point, let me know and I will help you out. However, if you need help with these particular recipes, I will feel sad. I'm not saying you can't still ask, I'm just saying that you will break my heart. Do what you think is right.

Scrambled Eggs, Family Style
Makes 3-4 servings
You Need:
6 eggs
2 tablespoons of margarine
1/2 cup (79 ml) of milk
1/2 cup (50 g) of your favorite cheese, shredded
Get out:
[
Right now. Run! Run!
]
2-quart (2 L) casserole dish
Wire whisk or large fork
Wax paper
1. Break 6 eggs into a 2-quart (2 L) glass casserole dish.
2. Mix in 2 tablespoons of margarine and 1/3 cup (79 ml) of milk
3. Whisk all the ingredients together well or stir them briskly with a large fork.
4. Cover the casserole dish with wax paper.
5. Microwave on MEDIUM HIGH for 6 to 8 minutes. Stir the mixture every 2 minutes.
6. Mix in 1/2 cup (50 g) of your favorite shredded cheese.
Bacon
Makes 1-2 servings
You Need:
4 strips of bacon

Get Out:
Oblong glass baking dish
3 to 4 white paper towels
Fork
Serving plate
1. Place two paper towels on an oblong glass baking dish
2. Arrange four strips of bacon on the towels.
3. Cover the bacon with one paper towel.
4. Microwave on High for 2 1/2 minutes or until the bacon is crisp.
5. Place one paper towel on a serving plate. Remove the bacon from the glass dish with a fork. Place the bacon on the plate.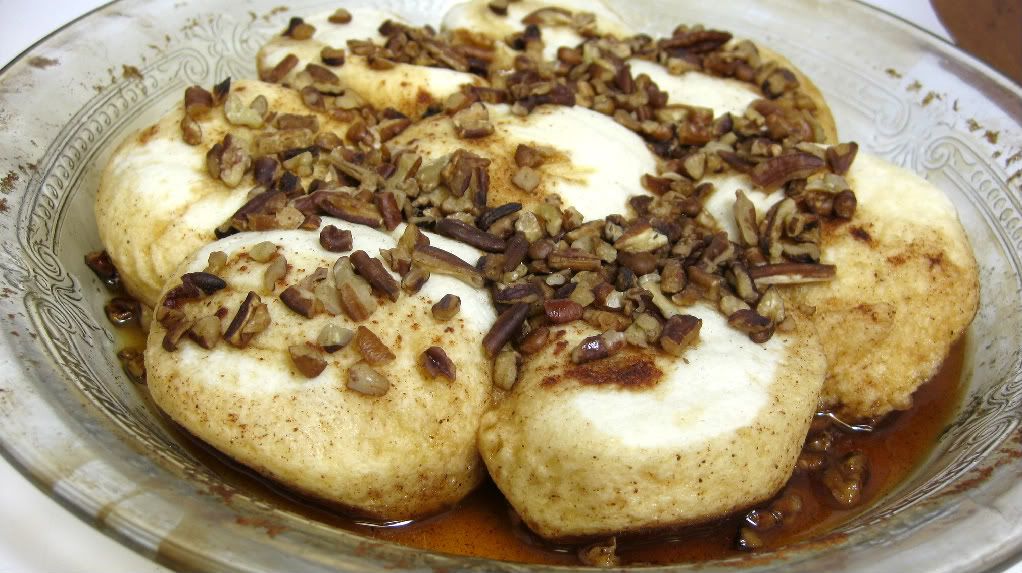 Cinnamon Honey Biscuits
Makes 8 rolls

You Need:
8 refrigerator buttermilk biscuits
1/4 cup (60 ml) of honey
1/4 teaspoon of cinnamon
1/4 cup (25 g) of crushed nuts
Margarine
Get Out:
9-inch (23 cm) glass pie plate
White paper towel
Measuring cup
Small mixing bowl
Measuring spoons
Wax paper
1. Spread some margarine on the bottom of a pie plate. [With a butter knife, in the picture. This seems futile.]
2. Place 8 buttermilk biscuits in the pie plate. Cover the pie plate with a white paper towel.
3. Microwave on MEDIUM HIGH for 3 minutes.
4. Mix together 1/4 cup (60 ml) of honey and 1/4 teaspoon of cinnamon in a small mixing bowl.
5. When the biscuits have cooked, remove them from the oven.
6. Drizzle the honey mixture over the biscuits. Sprinkle 1/4 cup (25 g) of crushed nuts over them.
7. Cover the pie plate with wax paper and return it to the oven for 3 minutes on MEDIUM HIGH.
Verdict:
Scrambled Eggs, Family Style
: As you can see in the picture, these are anemic and in no way scrambled. The key is to cover them with cheese so you can see neither of these facts. My microwave is probably more powerful than a 1987 microwave though, so that could be why they didn't have time to get scrambled. Husband thought they were good, and said they were better than army eggs. I was flattered momentarily, before realizing that I had hit a point wherein I was pleased that food I had made was a notch above military mess hall.
Bacon
: This bacon recipe is strangely similar to Rachael Ray's recipe for
Late Night Bacon
. A more suspicious-minded person might accuse Ms. Ray of plagiarism.
Hmmmmmmm
.
Cinnamon Honey Biscuits
: You can cook biscuits in the microwave, who knew? Can you cook them
well
? No. No you can't. A few minutes after leaving the microwave, they hardened into rocks. I gnawed off about half of one, then licked the honey sauce off the bottom before chucking it.
All together
: Maybe you shouldn't throw away your oven just yet. There are some things, many things in fact, that are just better (and just as easy) in the oven.
As a bonus, here is a recipe for hot chocolate. I have not tested it, but it seems like it will be okay. Be sure to follow the directions carefully.