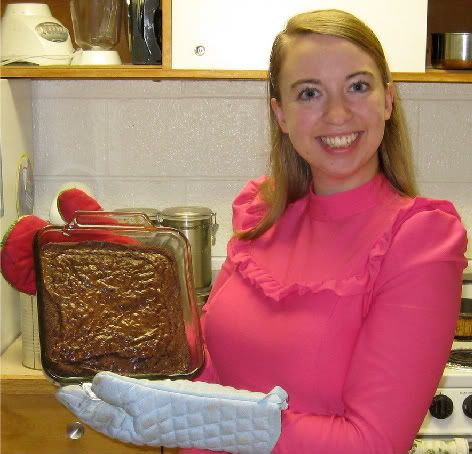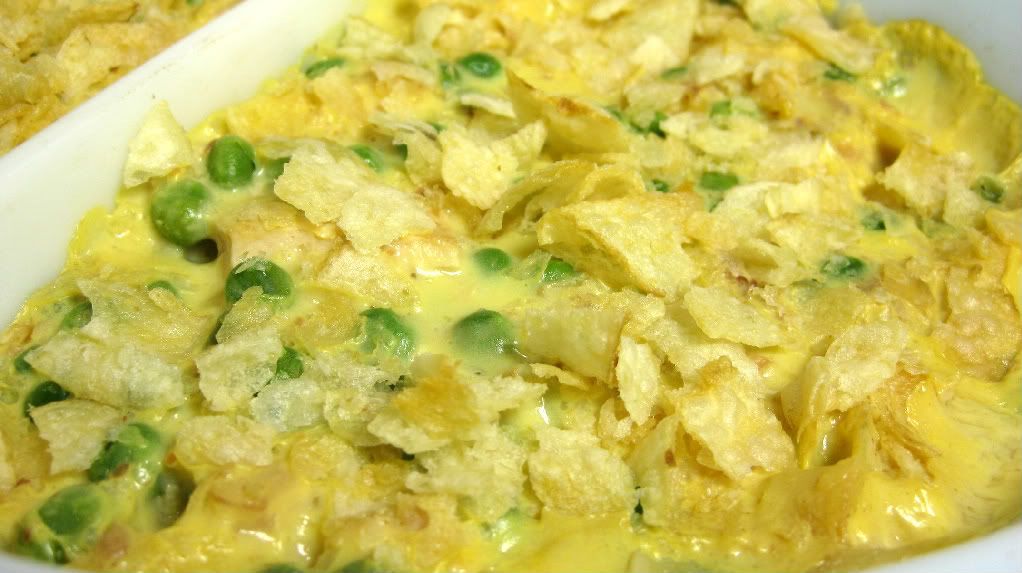 Tuna and Chips Casserole
2 cans (10 1/2 oz. each) cream of mushroom soup
1 cup milk
2 cans (7 oz. each) tuna, drained and flaked
2 1/2 cups crushed potato chips
2 cups (1 lb can) cooked green peas, drained
Heat oven to 350 degrees F. (mod.). Empty soup into 2-qt. baking dish. Add milk and mix well. Add tuna, 2 cups potato chips, and peas; mix lightly. Sprinkle remaining potato chips over top. Bake 25 min., until heated through.
6 to 8 servings
.
Planned-over Meal?
This dish, reheated the next day, tastes just as good.
Chicken and Chips Casserole
Make Tuna and Chips Casserole (above)--except substitute cream of chicken soup for mushroom soup and use 2 cups cubed cooked chicken for the tuna.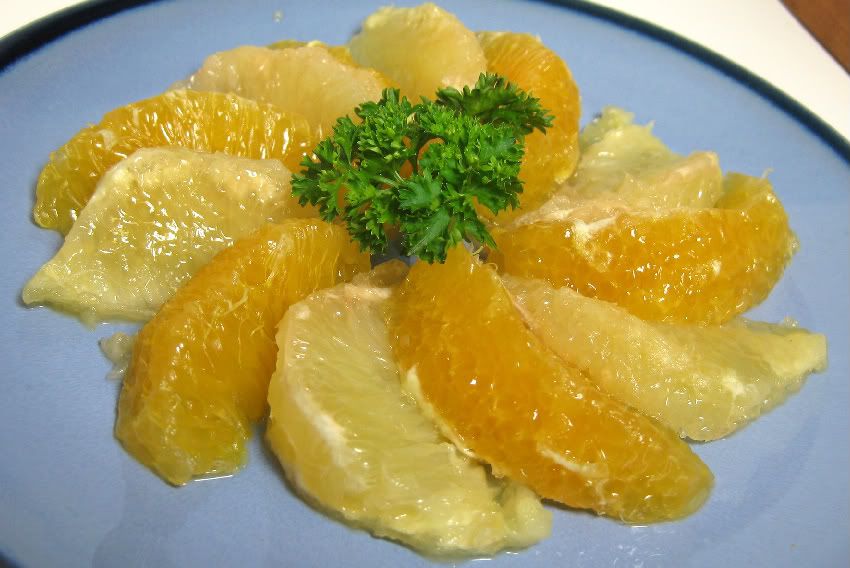 Orange-Grapefruit Pinwheel Salad
Arrange orange and grapefruit sections alternately in pinwheel pattern on lettuce [dang it, I forgot to put it on lettuce!] on each salad plate. Garnish center with sprig of deep green garnish (watercress, mint, parsley). Pass Ruby Red Dressing.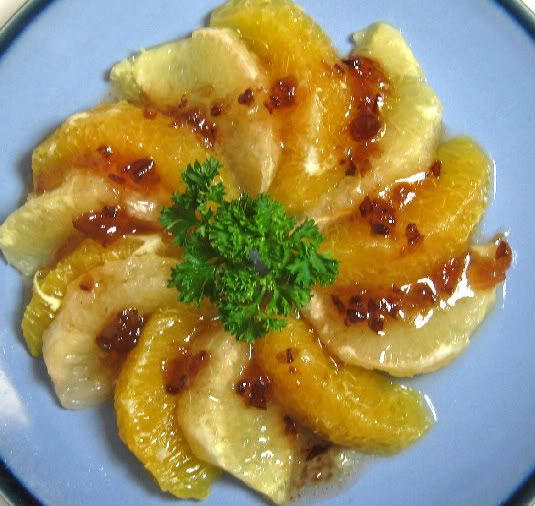 Ruby Red Dressing
1/2 cup currant jelly
1/4 cup vegetable oil
2 tbsp. lemon juice
dash of salt
few drops of onion juice
Beat jelly with fork until smooth. Add remaining ingredients; beat again until smooth.
Makes 3/4 cup
.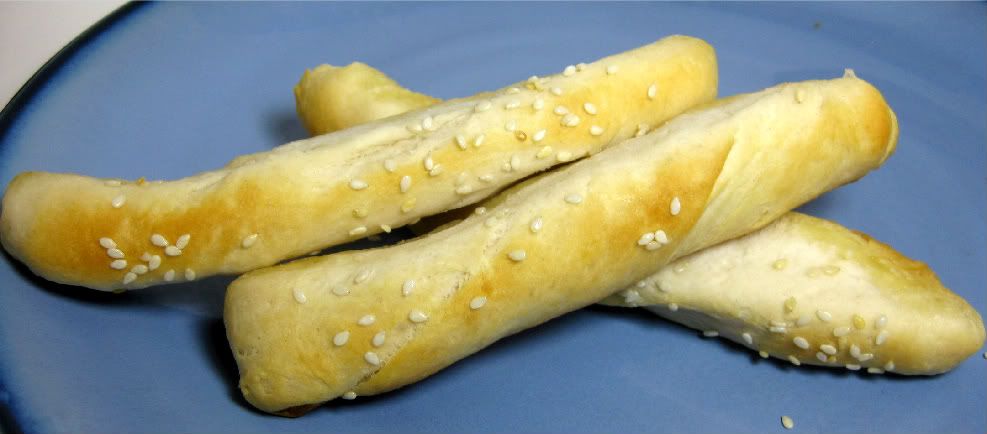 Extra-Quick Butter Sticks
Heat oven to 450 degrees F. (hot). Melt 1/4 cup butter. Pour half into a square pan, 8 x 8 x 2". Roll unbaked biscuits from 1 can refrigerated biscuits, twisting to about 8" lengths. Place in pan. Pour rest of butter over tops. Sprinkle with caraway, poppy, celery, or sesame seeds. Bake 8 to 10 min., or until golden brown. Let stand in pan about 2 min. to absorb butter.
Makes 10 sticks
.
Leftover Butter Sticks?
Wrap in foil; reheat in 375 degree oven for 20 min.
Mint Brownies
Prepare batter using 1 pkg. (15.5 oz.) regular fudge brownie mix adding 1/4 tsp. peppermint flavoring.
Verdict:
Chicken and Chips Casserole
: This has got to be the trashiest casserole of all time! I did the chicken option as Husband is not a fan of tuna, but I did use canned chicken, so I feel I should get points for that. I also used frozen peas instead of canned, because baked canned peas are terrible and I just can't be having with that. Trashy as it was though... it was pretty good. It isn't worth the amazing amount of potato chips, but good. Don't serve this to someone with heart disease, but it's worth a try if you're in the mood for something trashy.
Orange-Grapefruit Pinwheel
: Look how pretty! I might just keep this on file for when I feel fancy in the future. I made the dressing out of plum jam instead of currant, and it was pretty good actually. It sweetened up the grapefruit a little. If I did it again, I'd just do the jam instead of mixing it with other things though.
Extra-quick Butter Sticks
: Oh my lands. These are fantastic. A whole half-stick of butter melted in there! Husband looooooved these. A lot. Really a lot. Look how they glisten!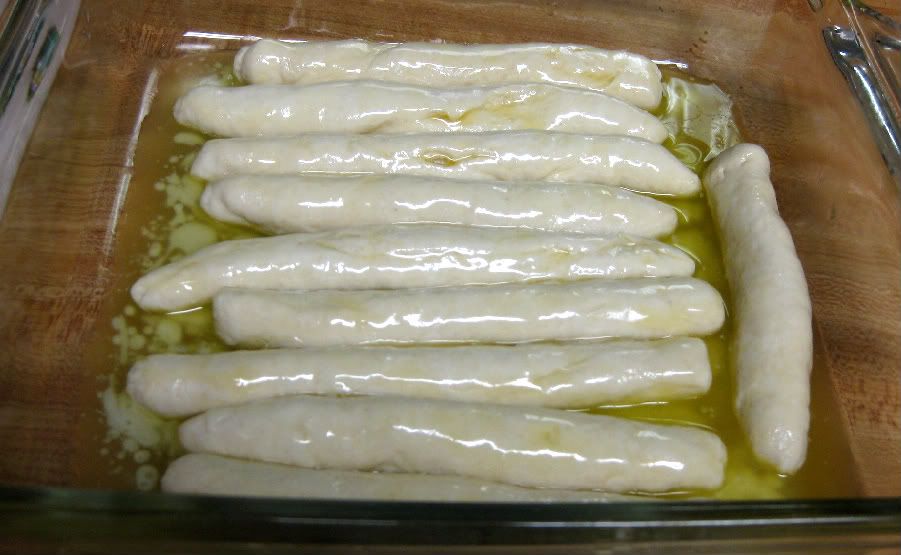 Mint Brownies
: How have I never thought of putting mint flavoring into brownies before? This is a brilliant idea!
Overall
: Oh my golly gracious. Individually, all these were good. Most of them were great. Together, they are an unholy abomination of potato chips, melted butter, jam, and brownies. It isn't that they are bad together, it is that each one of them is so...
much,
that it is overwhelming. I could only finish half a brownie by the end. Husband happily nabbed the rest of my brownie and stuffed it in his mouth, only to sadly remark that it had turned to ashes in his mouth, so great had been the consumption of potato chips, melted butter (rather a lot, in his case!), jam, and brownie.