Remember the Betty Crocker Recipe Card Library, from which we discovered the
Meal in a Muffin Tin
? One of its best features is that there is an entire section labeled "Fondue."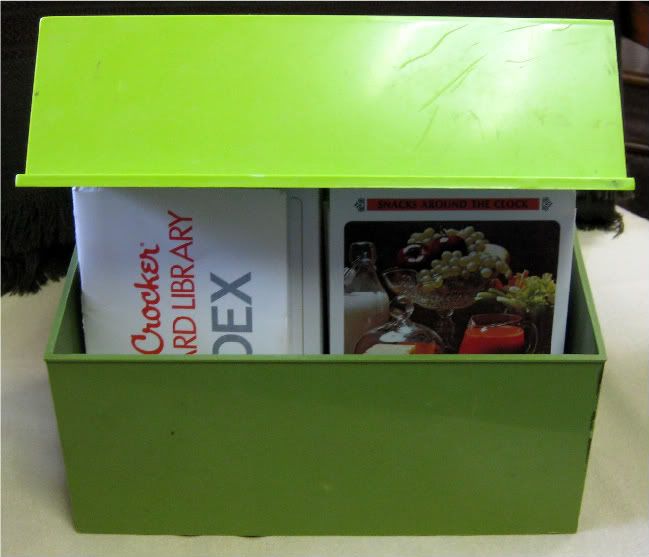 Well! Now it is time for some time travel back to 1971 for some of that business!
I know that were I a teenager, I would not be averse to a party centered around melted cheese.
Menu:

Mock Cheese Fondue

Vegetable Relish Sticks
Psychedelic Dessert Fondue
Milk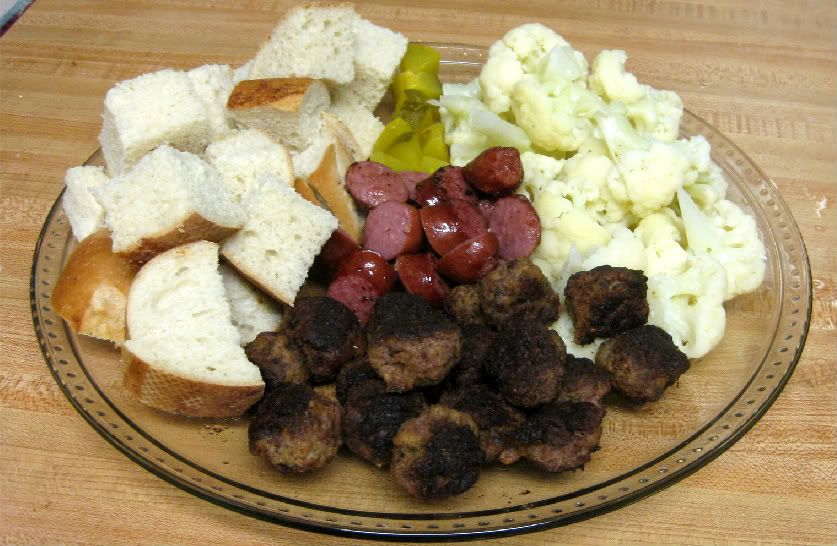 Mock Cheese Fondue (Apple Juice)
2 cans (10 3/4 ounces each) condensed Cheddar cheese soup
2 cloves garlic, minced
4 egg yolks, beaten
1/2 cup apple cider or juice
Dippers (below)
In earthenware fondue pot, heat soup and garlic over low heat to just below boiling; remove from heat. Stir half of hot soup into egg yolks*; blend into remaining soup. Stir in cider; heat through, stirring constantly. Transfer pot to source of heat at table. Adjust heat when necessary to keep fondue warm. Swirl dippers in fondue.
4 servings.
Dippers: Cut-up cooked frankfurters, cooked Mini Meatballs (
FONDUES
card 12), dill pickle chunks, cut up French bread and cauliflowerets.
Mini Meatballs
1 pound ground beef
1/2 cup dry bread crumbs
1/4 cup milk
1 egg
1 tablespoon instant minced onion
1 teaspoon parsley flakes
1 teaspoon salt
1/2 teaspoon Worcestershire sauce
1/8 teaspoon pepper
Sauces (below)
Mix all ingredients except sauces. Shape mixture by rounded teaspoonfuls into 3/4 inch balls. Prepare sauces. Cover meatballs and sauces; refrigerate. Remove from refrigerator about 15 minutes before serving.
In metal fondue pot, heat salad oil (2 inches) to 375 degrees; transfer pot to source of heat at table. Adjust heat when necessary to maintain temperature of oil.
Spear meatballs with fondue forks and place in hot oil. Cook until crusty on the outside, juicy inside. Dip into sauces.
6 dozen meatballs.
Sweet and Sour Sauce:
In small saucepan, heat 1/4 cup chili sauce and 1/4 cup grape or plum jelly, stirring constantly, until jelly melts.
1/2 cup.
Honey-Soy Sauce:
Mix 1/2 cup soy sauce, 1/4 cup honey, 1/2 teaspoon monosodium glutamate and 1/2 teaspoon ginger.
3/4 cup.
Sauce O' Gold:
Mix 1/4 cup prepared mustard, 1/4 cup honey, 1/2 teaspoon salt, 1/4 teaspoon rosemary leaves and 1/8 teaspoon pepper.
1/2 cup.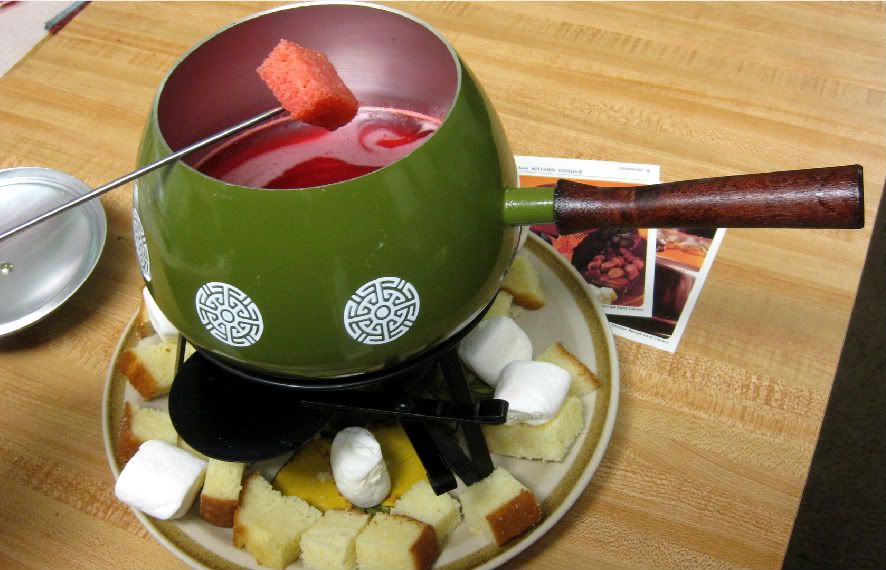 Psychedelic Dessert Fondue
In dessert fondue pot, pour 1 cup boiling water over 1 package (6 oz.) fruit-flavored gelatin. Stir to dissolve. Adjust heat when necessary to keep fondue warm. Spear Dippers (below) and swirl in fondue, then dip into whipped cream or chopped nuts.
4 servings.
Dippers:
Angel food or pound cake squares, marshmallows, pieces of fresh fruit.
Verdict:
Teenage Kitchen Fondue
: It's... hot cheese soup! Hooray! I chose this meal for two reasons: 1.) it uses cider instead of wine or beer, and as I have mentioned before, I'm a teetotaler and b.) Psychedelic Dessert Fondue. I presume the reason it is specifically for teenagers is the absence of alcohol. On the down side, it is made of hot cheese soup. Gahhhh. As a thing to dip other things into, it was pretty tasty. As a fondue, it was terrible. Like a fat-free cheesecake. Still, we happily dipped all the recommended dippers into cheese-flavored sauce. I really love French bread, cauliflower, meatballs, and sausages dipped in cheese.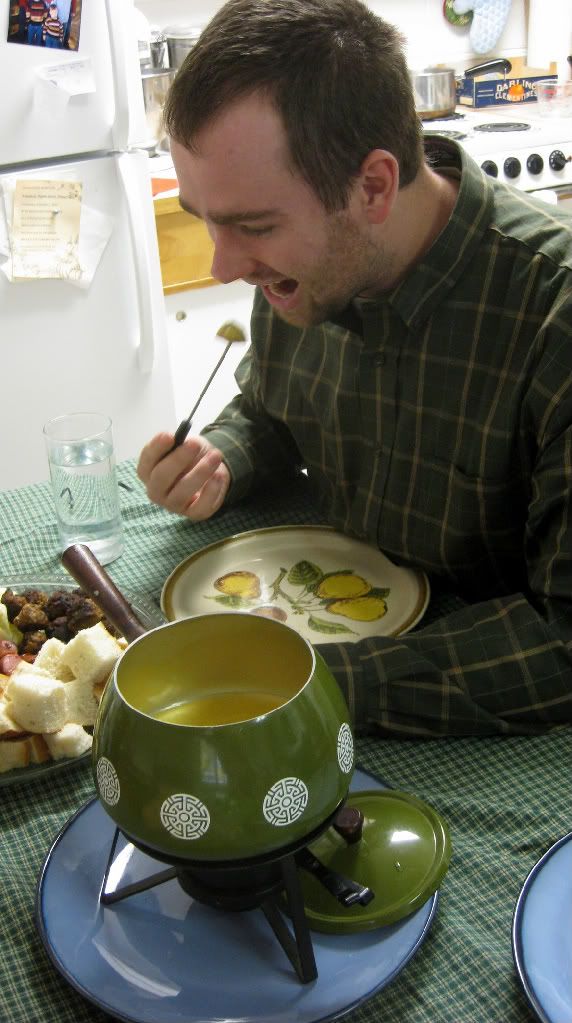 Husband declared that although it was tasty, next time we did fondue he demanded there be cheese involved. I concurred.
Mini Meatballs
: Can't go wrong with a mini meatball! We ate about half with the fondue, and then I saved some for spaghetti the next day. I am clever in this way.
Psychedelic Dessert Fondue
: Oh my goodness look at that title. So awesome. Or... groovy? I don't know what the cool kids were saying those days. The very title of this recipe was most of the reason I chose it. On the down side, it is hot Jello water. It was fine, but we decided that our pound cake and stale marshmallows were better without being dipped in the hot Jello water. It sort of dissolved the outside of the stale marshmallows into a slick goo, while keeping the inside much like chewing gum.
On the other hand, I can see how kids would really like this. Kids like dipping their food into things, poking things with sticks, and bright colors, so I really think they'd be into this in a big way. This would go over well at a birthday party or somesuch thing, especially if, as suggested, there was whipped cream (or sprinkles!) to dip the food into AGAIN.
Overall
: Pretty satisfying, actually. The hot cheese soup dipping may sound gross, but it's actually pretty good. We probably ate a little too much, including most of a cauliflower.
*This is known as tempering. You sloooowly drizzle hot liquid into eggs, while whisking. The point of this is to gradually bring the temperature of the eggs up so they blend smoothly into the mixture instead of instantly becoming chunks of scrambled egg. I think we can all agree this is a good thing.